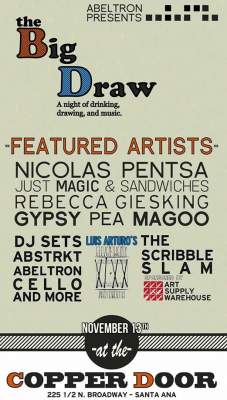 Every second Wednesday of the month, The Copper Door in Santa Ana hosts an event called The Big Draw. This is set this month for Wed., Nov. 13, 2013, at 8:30 pm.
This free event draws artists of all types to come hang out and get creative on 30-plus feet of communal drawing space. Featured artists also showcase their work at the event which makes it even more inspiring.
Come check out The Big Draw for an opportunity to get in touch with other local artists and create some awesome art!
–FEATURED ARTISTS–
Nicholas Pentsa
Just Magic & Sandwiches
Rebecca Giesking
Gypsy Pea Magoo
–DJ SETS–
Abstrkt
Abeltron
Cello
–LIVE ART–
The Scribble Slam
Sponsored by Art Supply Warehouse
–PHOTO BOOTH–
Luis Arturo's Eleven-Twenty Photobooth