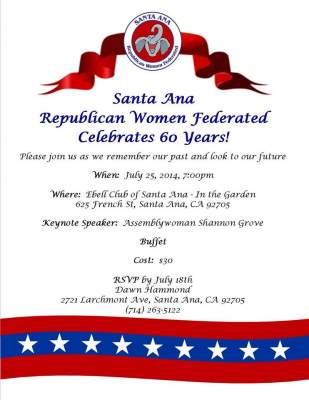 The Santa Ana Republican Women Federated are hosting a celebration of their 60th anniversary tonight, July 25, 2014, at 7 pm, at the Ebell Club of Santa Ana, located at 625 French St. in Santa Ana.
The speaker will be Assemblywoman Shannon Grove.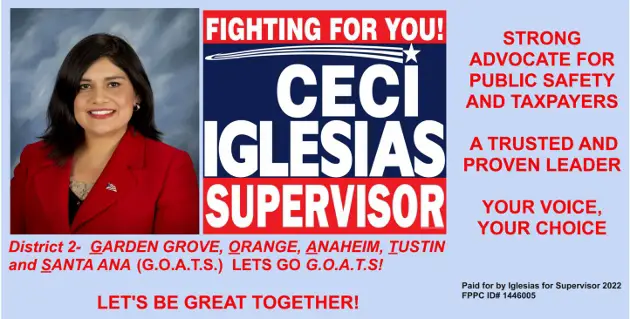 The cost to attend is $30. A buffet will be served.  RSVP to Dawn Hammond at 714-263-5122.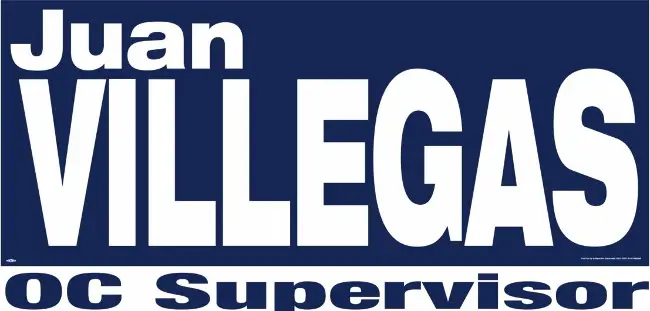 Shannon Grove represents the 34th Assembly District, encompassing the majority of Kern County including Bakersfield, Ridgecrest, Maricopa, Tehachapi, Taft and Frazier Park/Lebec. She was first elected to the California State Assembly in November 2010 and was re-elected in November 2012. Shannon was born in Bakersfield and raised in Arvin, California, where she graduated from Arvin High School. Shortly after high school, Shannon joined the United States Army serving with the Headquarters Company 5th Corps in Frankfurt, Germany. In 1993, she and her sister-in-law formed Continental Labor and Staffing Resources and today Shannon presides as Chief Executive Officer. Her company currently operates four offices in California (Bakersfield, Ridgecrest, Paso Robles and Visalia).
A longtime business owner, Shannon first became active in the political process to advocate for worker's compensation reform. As a result of her two-year participation in promoting this change, she was honored with the California Legislature's "Small Business Award" in 2005 by then-Assemblymember Kevin McCarthy.
Shannon is a member of the Brimhall Road Assembly of God. She resides in Bakersfield with her husband Rick, Operations Manager for KS Fabrication and Machine in Bakersfield. They are the parents of 5 grown children.