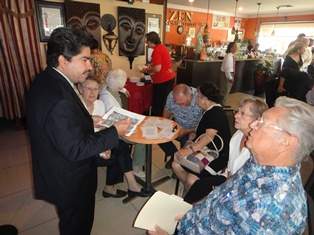 For Immediate Release: November 13, 2012
For More Information Contact: Carol Chamberlain – office: (916) 319-2069, mobile: (916) 804-5355
State Assemblyman Jose Solorio Teams Up with City of Santa Ana to Host Health and Information Fair for Seniors
A variety of health screenings available at no cost
ANAHEIM – State Assemblyman Jose Solorio (D-Anaheim) is joining the City of Santa Ana in co-hosting a Senior Health and Information Fair on Friday, November 16, 2012 from 8:30 a.m. to 12:00 p.m. at the Santa Ana Senior Center.
"Health and well-being are keys to a productive and vibrant life," Solorio says. "An individual's health should never be compromised due to their economic situation. I'm extremely grateful to the City of Santa Ana for their commitment to provide free health screenings for our senior community."
The complimentary screenings to be offered at the fair include diabetes testing, blood pressure evaluation, cholesterol screening, vision exams, skin cancer screening and many others. Seniors will also be able to receive flu shots free of charge.
WHAT:
Free Santa Ana Health & Information Fair for Seniors
WHEN:
Friday, November 16, 2012
8:30 a.m. to 12:00 p.m.
WHERE:
Santa Ana Senior Center
424 W. 3rd Street, Santa Ana, CA 92701
Parking available in structure. Bring ticket for validation.
For additional information, please contact Lorraine Lazarine-McCarty at (714) 939-8469 or e-mail her at Lorraine Lazarine-McCarty@asm.ca.gov.
State Assemblyman Jose Solorio represents the Sixty-Ninth Assembly District, which includes the cities of Anaheim, Garden Grove, and Santa Ana. For more information about Assemblyman Solorio, visit www.assembly.ca.gov/solorio.