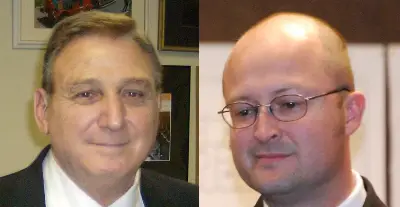 GOP 72nd A.D. candidates Joe Carchio and  Matt Harper, Picture Courtesy of the Surf City Voice
Huntington Beach Mayor Joe Carchio and Council Member Matt Harper, who are both Republican candidates for the 72nd Assembly District, which includes part of West Santa Ana, are trying to eliminate a city commission – the Mobile Home Advisory Board (MHAB), according to the Surf City Voice.
If Carchio and Harper cannot get rid of the MHAB Commission, then they will try to eliminate "the at-large members whose current purpose is to provide a buffer between park owners and park residents and an independent look at the issues."
Harper must have learned this from his former boss, Orange County Supervisor Janet Nguyen, who has been trying to eliminate community positions from the O.C. Caloptima board.
The Surf City Voice also revealed that Carchio and Harper have not been inviting local mobile home owners to MHAB meetings – or to meetings of the  Intergovernmental Relations Committee (IRC) which has been reviewing all city run committees recently.  But they did invite Vickie Talley, president of the Mobile Home Educational Trust (MHET) – and she doesn't even reside in a mobile home!  Needless to say, MHET has been a contributor to PACS that donated to the campaigns of both Carchio and Harper.
Santa Ana has quite a few mobile home owners – they should bear in mind what Carchio and Harper are up to and reject them both in the 2012 primary election for the 72nd A.D.  Other candidates include Republican Tyler Diep, who is the Mayor Pro Tem in Westminster, and Joe Dovinh, the lone Democratic candidate.  Dovinh owns a Vietnamese American newspaper.