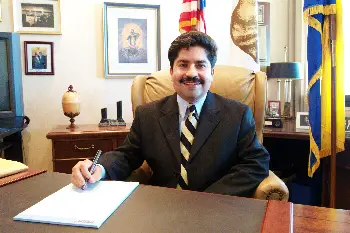 Assemblyman Jose Solorio is at it again.  This time he has proposed a bill, AB 947, that would "cost the California workers' compensation system an additional $200 to $210 million a year, a legislative fiscal analysis said," according to the Sacramento Business Journal.
Currently, a California worker can receive payment for a temporary disability caused at work for 104 weeks within a five-year period. Solorio's AB 947 would allow temporary disability benefits for up to 240 weeks – nearly five years, according to the O.C. Register.
Does Solorio read the newspapers?  The L.A. Times just reported that:
Last month's unemployment rate ticked up to 12% from 11.8% in June, according to figures released Friday by the state Employment Development Department. California now has the second-highest rate of unemployment in the nation, trailing only Nevada at 12.9%. Its jobless rate is well above the U.S. average of 9.1% in July.

"The California economy is treading water. It's growing but not fast enough to create net new jobs," said Scott Anderson, the senior economist at Wells Fargo Securities. "The recent knock in consumer and business confidence could be enough to tip California back into recession."
And yet Solorio has proposed two anti-employer bills this month – he had previously proposed to force building service contractors to hire their competitors' employees, when they win a new bid to service a building.  You can read about that disastrous bill by clicking here.
Solorio is once more getting ripped all over the state for this latest ridiculous bill.  Here are a few excerpts:
"AB 947 adds huge new payroll costs for private and public employers in California, at the same time our 12 percent unemployment rate remains among the highest in the nation and government is struggling to protect public services," said Thomas Vu, policy advocate for the California Chamber of Commerce. "Workers' compensation costs per claim have increased by 60 percent in recent years, driven partly by growth in TD benefit payments. Workers' compensation claims already take longer to resolve in California and our system is more expensive than other states, a problem that will grow worse under this bill." Workers' Compensation Action Network.
Martin Brady, executive director of Schools Insurance Authority and chairman of the California Coalition on Workers Compensation, said, "AB 947 takes the wrong approach…Injured workers should not be prevented from either being cleared to return to work or gaining access to permanent disability benefits simply because doctors are able to provide treatment for more than four years. Longer claims drive costs for employers, increase litigation and impede return to work."
We will update this article as the newspapers begin to rip Solorio, again, in editorials.  My own personal sentiment is that five years is RIDICULOUS for temporary disability.  The only reason a case would go that long would be if it was litigated – so this bill looks like a carrot tossed to the claim lawyers, by Solorio.
The full committee analysis is available here.