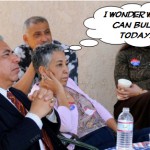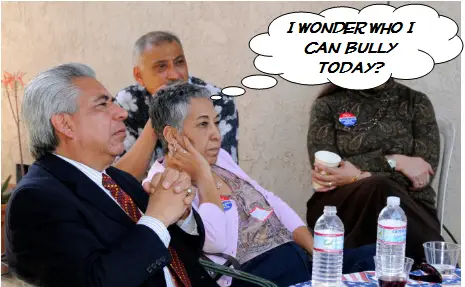 Santa Ana Mayoral candidate Alfredo Amezcua is screeching about free speech on his Facebook account.  He is upset that his uncouth supporter, Albert Castillo, was silenced at the last Santa Ana City Council meeting after the Council voted unanimously to turn off his microphone.  Castillo had been blathering incoherently about something that happened ten years ago, back when he used to run around town in a beret.
Castillo, as it turns out, had a right to make a fool of himself at that meeting.  The Brown Act is clear about this.  Residents can make asses of themselves during public comments.  That is not illegal.
That said, Amezcua has been as silent as a lamb about his supporter, rogue bully Commissioner Tish Leon, who joined with her fellow Parks and Recreation Commissioner, Julie Stroud, in terrorizing a sixteen year old honor student who was a student commissioner on their board.
What did the young man do to deserve this?  He stood up for my right to make a presentation to the Parks and Recreation Board about building a dog park in Santa Ana.
Leon and Stroud showed up to that meeting, during which Parks and Rec Agency Director Gerardo Mouet was going to introduce his feasibility study into my dog park proposal, with their minds already made up.  They had with them a letter from Thomas Gordon, a Republican who recently failed in an attempt to get onto the November ballot, as a  candidate against Councilman Sal Tinajero.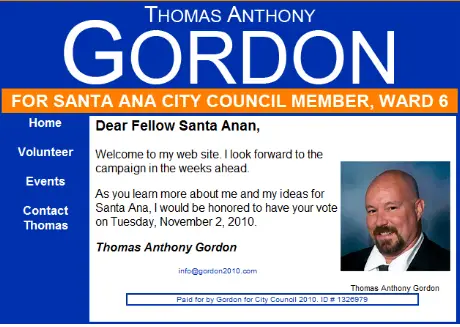 Thomas Gordon won't be on the ballot after all, in November
In the letter, Gordon slammed the dog park proposal, even though he once told me that he loved visiting the eight or nine dog parks in the Denver area, where he maintains a second home.  Gordon pays to fly his dog with him to Denver.  It is ironic that Gordon thinks it is okay to deprive the people of Santa Ana of the joy of visiting a dog park when he does this all the time!
The student commissioner later told Stroud and Leon that he thought the dog park idea was a good one.  And he questioned why Gordon was involved.  And that was it.  The bully commissioners lost their minds and went into attack mode.  The rest is history.
Amezcua has had NOTHING to say about the behavior of his longtime supporter, Leon.  He has been working very closely with her since he started his campaign.  She hosts the meetings of his organization, Sacred, at her offices.  I attended those meetings early on, only to find that Leon had brought in a host of Usual Suspects, including Gordon and Stroud.
So Amezcua wants free speech for his ill-mannered supporters, but not for a sixteen year old honor student, or for members of the community who approach city commissions with new ideas – only to be attacked by Amezcua's friends on the commissions.  (For the record, Stroud referred to me as an ass on the Santa Ana Citizens Yahoogroup after I spoke to her board, a clear violation of the City of Santa Ana's Code of Ethics).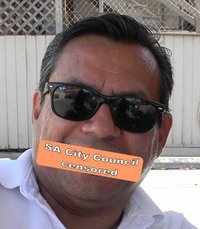 By the way, Amezcua supporter Ruben Alvarez is insinuating on his Facebook account that he has been censored.  Really Ruben?  I cannot recall him ever asking to speak at a Council meeting and being refused the opportunity.  That is simply a lie.
In fact, for the record, Amezcua himself showed up at the Council meeting when they approved the amendments to the One Broadway Plaza development.  He walked up to the City Clerk, had his parking stub validated, and left.  He wasn't censored.  He just had nothing of substance to add to the conversation.  As far as I am concerned, he still has nothing to say – and he certainly has been mum about the bullying actions of Leon, his main supporter.