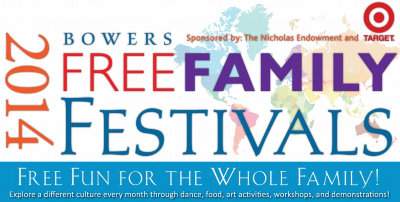 The Bowers Museum is hosting the Americana Family Festival on Sunday, July 6, 2014.  This event is sponsored by the James Irvine Foundation.
This free event will include:
An Art Display created by Treasures program participants will be exhibited at the  John M. Lee Court from 11 am-3:30 pm.
Face painting, art projects (fans and wind socks) and Apple and Cherry pie tasting will be at the Margaret and Cleo Key Courtyard at 11:45 am and the "Star Spangled Banner" and "America the Beautiful" will be sung by April Walsh.
Gary Wiskigeamatyuk (Prairie Potawatomi/Ojibwe), will perform an authentic song at noon.
April Walsh will sing from the American songbook and invites you to sing-a-long at 12:45 pm.
The BON FAMILY CLOGGERS, will perform a a truly American dance form that began in the Appalachian Mountains of North America, at 1:30 pm.
The DEGREE BAND will play the blues of America – from Chicago to New Orleans.  Listen and dance to soul, jazz and rock 'n roll by one of the southland's hottest blues band.
Free admission is included to the Bowers Museum permanent exhibitions, Kidseum and limited engagement exhibitions including, Heavenly Horses: 2,000 Years of Chinese and Japanese Equine Art; Chuck Jones: Doodles of a Genius; The Lure of Chinatown: Painting California's Chinese Communities, Sacred Realms: Temple Murals by Shashi Dhoj Tulachand; Spirits and Headhunters: Art of the Pacific Islands; California Legacies: Missions and Ranchos; Vision of the Shaman, Song of the Priest; California: The Golden Years; Ancient Arts of China, and Framed: Step into Art at Kidseum.
Free admission to the Bowers Kidseum is also included. Kidseum hours: 10 am – 4 pm.
###