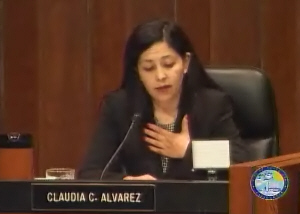 Update: Alvarez is still ahead of McLoughlin, by 117 votes, at 9:30 pm on Saturday night, Nov. 10.
Santa Ana Mayor Pro Tem Claudia Alvarez is still leading as ballots continue to be counted, in her race against Mark McLoughlin and David Chapel, for Area 5 on the Rancho Santiago Community College District's Board of Trustees.
Currently Alvarez has 4,429 votes versus 4,362 for McLoughlin and 3,198 for Chapel.  There are a lot of votes left to count, according to the OC Voter Registrar:
Vote-by-Mails left: 2,851
Provisionals left: 1,814
Total left: 4,665
This race could still go to McLoughlin but the good news for Alvarez is that Chapel is continuing to split the white vote, and the later votes cast should be from Latino voters.
McLoughlin was part of the failed Team Benavides.  If he loses that will be a big reason for his loss.