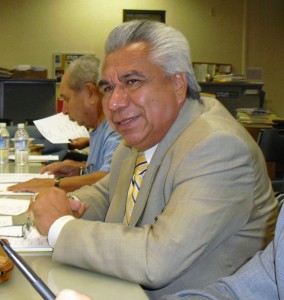 Alfredo Amezcua pulled together an amazing coalition at tonight's community meeting
I attended a community meeting tonight at the Santa Ana Public Law Center.  The meeting was moderated by Alfredo Amezcua, a local attorney and former college education board member, who also prepared the agenda.  The organization he heads up is called the "Santa Ana Collaborative for Responsible Development."
The main focus of this organization is the pending Station District development, which involved properties acquired by the City of Santa Ana over by the Train Station.  How those properties get developed is this group's main concern.
We heard tonight from Eric Altman of OCCORD and his colleague Becky Dennison.  They told us about what they did with the Grand Ave. Project in Los Angeles.  They met with the developer regularly and were able to work on what is called a Community Benefits Agreement (CBA).
What a CBA does is compel the developer to take the community's needs into account when building a major development.  This can include affordable housing, community services (such as a job center), hiring locals, setting aside green space, etc.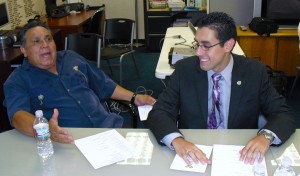 State Senator Lou Correa could not be there but he sent his representatives
Amezcua was able to attract a cross-section of local leaders to the meeting. They included two representatives of State Senator Lou Correa's office (pictured above), Max Madrid and a former intern named Arthur Sandoval who is now a District Representative for Senator Correa.
Santa Ana Parks and Recreation Commissioners Tish Leon and Julie Stroud were there too.  So was Santa Ana Planning Commissioner Sean Mill and Santa Ana Housing & Redevelopment Commissioner Glen Stroud.  Amin David of Los Amigos was there, along with his comrades Zeke Hernandez and Alejandro Moreno.  Al Castillo was there from Chicanos Unidos, along with several of his fellow activists.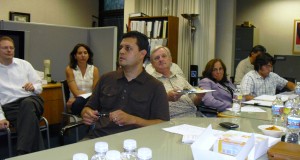 I also saw past SAUSD School Board candidates Gloria Alvarado and Val Amezcua there, along with past Mayoral candidate Thomas Gordon, who also served for a time with Amezcua on the Santa Ana EPIC Commission.  Former OCTA Commissioner Phil Bacerra was there too, as were a few local businesspeople, including Mike Tardif and Jacquita Deter and her son.
Notable Logan Barrio community representatives Joe Andrade and Sam Romero were there as well.  It was great catching up with them.  Romero said that he is working on a reunion of the Logan Neighborhood.  Those are always festive events!
Other organizations that were represented included Latino Health Access, the Santiago Lofts, the Kennedy Commission, and the SEIU.
This group will be meeting again on the evening of Sep. 16, at the same location, at 7 p.m.  Thanks to Al Amezcua for his leadership role in this organization and to Tish Leon for facilitating the use of the Public Law Center's building.