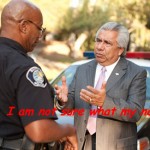 Picture Courtesy of the Amezcua Facts Blog
Alfredo Amezcua is finally sending out mail this week, but the timing is a bit off given the allegations that have come up regarding his driving violations.
Amezcua's mailers talk a lot about honesty, integrity and public safety, but the reality is that Amezcua has been caught red-handed lying about his name, presumably in order to avoid damaging his driving record.
The problem for Amezcua is that anyone can peruse the Orange County court criminal records and pull up his multitude of driving violations.  Once you do so, it is easy to spot how he has gone about altering his name, from one case to the next, as has been pointed out in the new Amezcua Facts blog.
Call this what you will, but in the end it is fraud.  That is bad enough but what are we to make of a guy who can't seem to figure out how to drive without getting moving violations?
Santa Ana leads the county in accidents involving pedestrians.  Let's face it – every time Amezcua gets behind the wheel, pedestrians are in trouble!
But don't take my word for it, see for yourself.  Go to this link.  Now click below on "Criminal and Traffic Case Access."  Next click on "Accept Terms," and then enter his name in the box below, which looks like this:
Next you will see a bunch of cases, which look like this:
Now click on any of the blue cases you see highlighted on the left.  When you do so, click on the "names" field and you will get something like this: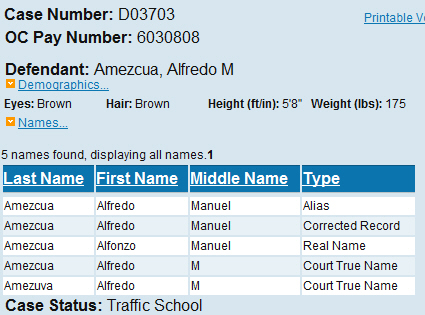 Notice all the shenanigans Amezcua is up to with regard to his name.  He always is his own attorney too, as no other attorney would be willing to play these games.
Next go back and search for "Alfonso" Amezcua and "Manuel" Amezcua, and "Alfredo Manuel" Amezcua.  You will see that this guy has a ton of tickets, for all sorts of violations, and he uses every trick in the book to preserve his driving record, except actually driving by the rules!
Imagine what Amezcua would do as Mayor if he would go to such lengths to lie to the traffic courts?  This is of course a serious matter, that could in fact lead to Amezcua being disbarred and perhaps prosecuted by the State Attorney General.
One of Amezcua's mailers states that we need a Mayor our kids can be proud of.  Well, that certainly isn't Amezcua!