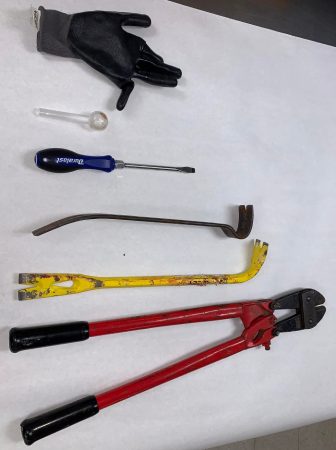 A witness reported a subject smashing the front window of a liquor store at Collins and Glassell at 4:30 this morning and then fleeing the area in a white sedan.
Officers responded to the location, confirmed a burglary, checked the area and located a vehicle matching the description near Glassell and Washington.
A car stop was conducted and a male and female occupant were detained. Property from the liquor store was located inside the suspect's vehicle.
The female, 27-year-old Jamilla Awad from Perris, had blood on her hands and blood was located at the crime scene. The male driver, 30-year-old Roberto Torres from Santa Ana, was on Parole.
Inside the vehicle, officers located stolen property related to another liquor store burglary in Orange that occurred on 1/4/21.
Detectives responded and were able to arrest Torres for an additional liquor store burglary that occurred on 12/31/21 in Orange.
Awad and Torres were booked into OC Jail for commercial burglary.