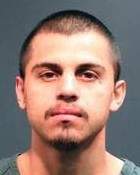 Joshua Anthony Encinas, a 24-year-old Riverside man, was sentenced to nine years in state prison for shooting Joseph Frank Garcia, 23-years-old, to death behind a closed grocery store in Santa Ana last year, according to the O.C. Register.
Encinas could have faced more time behind bars but he accepted a plea agreement on June 22 that resulted in a murder charge being dropped. He did plead guilty however to charges of voluntary manslaughter and personal use of a gun.
Police found Garcia, dead in an alley behind an empty Food 4 Less store at the 1900 block of North Grand Ave., on Feb. 8, 2017. Garcia's body was face down and he had multiple gunshot wounds to his upper torso.
A day after Garcia's body was found his relatives gathered at the scene to honor his memory and one of his relatives was run over and killed by a driver she had been arguing with. That driver struck her several times before driving off.
Encinas was arrested and charged with Garcia's slaying in Riverside, more than a month after the murder. Both Garcia and Encinas were connected to local gangs in Orange County, according to the SAPD.
Encinas has been in trouble before. He plead guilty in 2016 to possession of heroin and being armed with a .380-caliber semi-automatic pistol, while he was in a car with two other gangbangers.
Garcia also had been in trouble before. His criminal history included possession of stolen property and possession of drug paraphernalia with intent to sell.