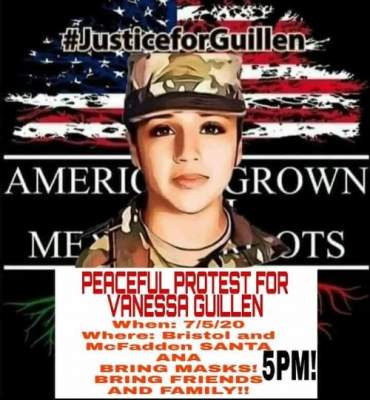 A peaceful protest for Vanessa Guillen, the army soldier who was killed in Texas, will be held on July 5, at 5 p/m. at S. Bristol and McFadden, in Santa Ana.
The two suspects in Guillen's death have been identified as 22-year-old Cecily Aguilar, who has been charged with one count of conspiracy to tamper with evidence, and 20-year-old Army Specialist Aaron Robinson, who fatally shot himself in Killeen on Wednesday, according to KSAT.

The event organizers are encouraging those who come to the protest to bring their friends and family and masks.
The President of LULAC made this statement to the press regarding the disappearance and apparent murder of Guillen: "We are asking all women especially Latina women or their families: Do not enlist in the army until we have assurance they will be protected and taken care of when they serve our country. And right now I just don't believe the military is capable of doing that because of what happened to Vanessa Guillen," said Garcia.