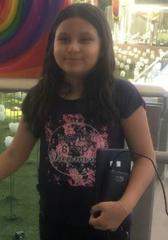 Santa Ana Police Department
Advisory: UPDATE – Missing 10 Year Old Missing Female Has Been Located
UPDATE – Child has been located in the City of Mission Viejo and is being transported by Orange County Sheriffs to SAPD where she will be reunited with her family and interview by SAPD Detectives.
– ORIGINAL MESSAGE –
SAPD Curently Looking For A Critical Missing 10 Year Old Missing Female – Requesting Public's Assistance
Missing Child:
Kathy Sandoval, 10 years old
Description:
Female Hispanic, 4'06", 80 lbs.,
long black hair, brown eyes
Last seen wearing:
Gray T-shirt and black leggings
Location: 1700 S. Birch Street, Santa Ana
On April 7, 2018 at approximately 1415 hours, Kathy SANDOVAL was last seen riding her pink bicycle outside her residence in the area of 1700 S. Birch Street. Due to announcements made by the police helicopter, citizens called in stating that a person matching SANDOVAL'S description was last seen traveling east on Warner Avenue by herself. SANDOVAL has not runaway in the past.
We are asking for the public's assistance in locating Kathy Sandoval. If Kathy SANDOVAL seen or located, please call 911 or Detective Gus Moroyoqui at 714-245-8731