The Irvine Police Department is looking for a male suspect who violently attacked and tried to rape a woman who was doing janitorial work at an office in Irvine, according to KTLA.
The attack happened early on Wednesday morning, February 6, 2019, at 1:20 a.m., at an office located at 17877 Von Karman Ave. The suspect entered the facility through an unlocked door.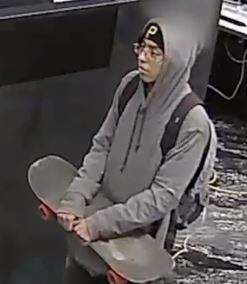 The suspect was carrying a skateboard. He walked up to the victim and then he asked her in Spanish if she was alone. After she said yes, the man made sexually suggestive remarks and ordered the victim to have sex with him, according to the Irvine Police.
The woman refused and she then threatened to call the police. However the attacker then pulled out a gun and pointed it at her, as captured in surveillance video that was released by the Irvine police.
The attacker shoved his victim into another room and then tried by force to take off her clothing. The victim however first begged for her life then tried to fight off her attacker, according to unreleased video footage.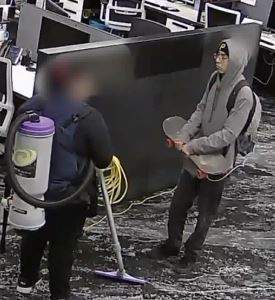 Fortunately the woman was in the end able to overpower her attacker, who was slight of frame and she even disarmed him. She then fled to a nearby building for help.
The man escaped before the police could arrive. The officers did find the weapon, which turned out to be a replica Glock.
The victim told the police that the suspect also had a knife.
The victim had bruises and scratches due to the assault but escaped serious injury.
The suspect is described as a male Hispanic, 20 to 25 years old, about 5 feet 4 inches tall, weighing 130 to 140 pounds, according to the Irvine police.
The suspect has black hair, brown eyes and he wore glasses during the attack. He was dressed in a gray hooded sweatshirt, black pants and a black knit cap with the letter "P" on the front.
Anyone who recognizes the suspect is asked to contact Detective Haldor Larum by calling 949-724-7194 or emailing him at hlarum@cityofirvine.org.