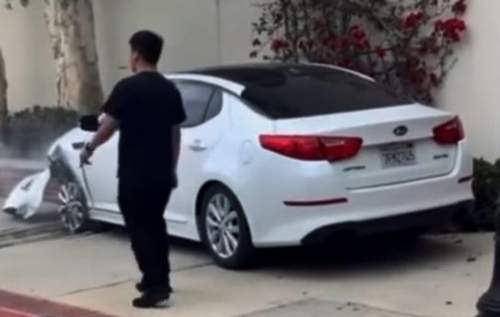 A driver suspected of being under the influence while behind the wheel drove his white Kia sedan up onto a curb, right past where people were eating outside at the popular DTSA restaurant Chapter One, on Sunday, May 2, at about 11:45 a.m.
The car slam into a raised flower bed next to the entrance of the parking structure at the 300 block of W. 3rd St. The driver then exited the Kia and ran but he did not get far. Witnesses were able to catch up to the driver and restrain him until the police arrived.
The white Kia Optima ended up leaking fluids next to the entrance of the Artists Village Parking.
There were at at least 50 people in the outdoor dining area at Chapter One when the suspect's Kia careened past them.
The suspect driver was strapped onto a stretcher and taken away by ambulance. Witnesses said he appeared to be conscious
The SAPD later arrested the driver on suspicion of DUI. For whatever reason the SAPD did not reveal the suspect's name.
Fortunately there were no other injuries reported but this could have ended very badly had the car slammed into the outdoor diners. They are protected by barriers but who knows what could have happened in such an instance?
Who gets drunk before noon? On a Sunday?