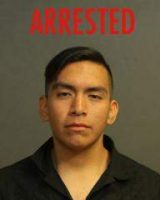 Today, shortly after 12:00 p.m., the Garden Grove Police Department located and arrested Jasper Bear Belknap, 21, the suspect wanted in the homicide of 23-year-old Austin D. Robinson on Feb. 12, 2018.
Belknap was located in the area of Trask Avenue and Leda Lane in Garden Grove and was turned over to the Costa Mesa Police at the scene of the arrest. Belknap is now in the custody of the Costa Mesa Police Department and was booked into their city jail. On Feb. 12, 2018, at approximately 2:41 a.m., Costa Mesa Police Department (CMPD) officers were dispatched to the 2900 block of Grace Lane regarding an injured male with a stab wound. Paramedics transported the victim, Robinson, to the Orange County Global Medical Center in Santa Ana, where the victim succumbed to his injuries later that morning.
During the ongoing investigation, police detectives identified Belknap as the homicide suspect.
A warrant was issued for the arrest of Belknap who was believed to be in the Orange County area and was considered dangerous.
Anyone with further information on the incident is encouraged to call the CMPD Detective Bureau at 714-754-5637.
Suspect: Jasper Bear Belknap
DOB 04/09/1996 (21)
6'2" tall, 220 lbs.
Black hair, brown eyes
Victim: Austin D. Robinson, 23, Costa Mesa