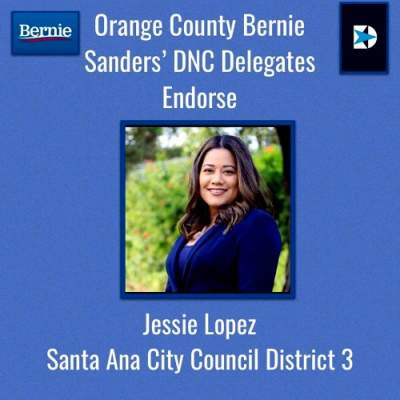 A surprising poll leaked to us by a city insider shows that the top two Santa Ana City Council candidates in Ward 3 do not in fact include Mark McLoughlin, the candidate annointed by outgoing mayor Miguel Pulido.
As we expected, one of the top candidates is Jeffrey Katz, an attorney and a neighborhood leader in the Floral Park Neighborhood. The other? Jessie Lopez, the most liberal candidate in the Ward 3 mix. Lopez is also quite possibly the youngest candidate vying for Ward 3.
The poll is not what we expected as Ward 3 includes many older residents but over the past few years quite a few of our older residents have either passed away or moved away. Could the Ward now be on the verge of electing a Berniecrat?
This is bad news for Ward 3 as crime is out of control in this area, which is in North Santa Ana and includes the Floral Park and Park Santiago Neighborhoods. Lopez does not even mention crime on the Priorities page of her campaign website!
This blog has endorsed Katz for Ward 3. We encourage the voters in Ward 3 to support him rather than waste their vote on the low-energy empty suit McLoughlin. Read about the Katz plan to reduce crime in our city here.