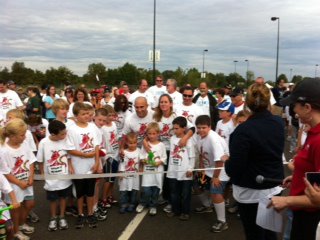 American Liver Foundation
FOR IMMEDIATE RELEASE: June 14, 2012
CONTACT: Cortney Donato, (310) 670-4624, cdonato@liverfoundation.org
FOURTH ANNUAL LIVER LIFE WALK ORANGE COUNTY SET FOR SATURDAY, JUNE 23, 2012
NEWPORT BEACH, CA  – The American Liver Foundation is hosting their 4th Annual Liver Life Walk on Saturday, June 23, 2012 at the Newport Dunes. This walk will raise funds for over 500,000 patients in Orange County alone that are battling liver disease and hepatitis. All proceeds for this walk will go towards our mission to facilitate, advocate and promote education, support and research for the prevention, treatment and cure of liver disease.
Join local businesses, medical professionals, patients and their families for this incredible event. Register today at www.liverfoundation.org/walk and simply click on 'Newport Beach' walk. You may walk as an individual, as a team or with your company. Walkers are encouraged to set a personal fundraising goal and each walker who raises over $100 will receive a Liver Life Walk T-shirt! Prizes will be awarded to the top walker and the top team captain!
As their slogan indicates, Walk for Fun…Walk for Life, the Liver Life Walk is a leisurely walk filled with fun, entertainment and education. Jack FM will be at the walk providing live entertainment as well as a variety of other vendors. Dogs are welcome!
Congresswoman Loretta Sanchez is the Honorary Chair of the Liver Life Walk. She is helping the American Liver Foundation bring attention to liver health and wellness in the community. There is also support from various companies and hospitals including Bayer, Vertex and St. Joseph Hospital.
Registration for the walk begins at 8 a.m. and goes until the walk begins at 10 a.m. Parking at the Newport Dunes is $5 and the address for the park is 1131 Back Bay Drive, Newport Beach, CA 92660. Please contact Cortney Donato, Event Manager, at (310) 670-4624 or cdonato@liverfoundation.org with any questions.
Join us as we raise funds for the 30 million Americans affected by liver disease!
Raise Money. Raise Awareness. Raise Hope.
About the Los Angeles Division of the American Liver Foundation
The Greater Los Angeles Division of the American Liver Foundation is dedicated to the prevention, treatment and cure of hepatitis and other liver diseases through research, education and advocacy on behalf of those affected by or at risk of liver disease. It is through the generous support of our community partners that we are able to challenge liver diseases, afflictions that affect 1 in 10 Americans in their lifetime. More than 83% of the funds raised by our Chapter go toward our mission.
Get the facts about liver disease: 30 million Americans are touched by liver disease. Liver disease doesn't discriminate: it affects all races, ages, and genders. Hepatitis C is four times more prevalent than HIV and there is no vaccine. More than 600,000 Californians are infected with Hepatitis C. More than 17,000 Americans are awaiting a life-saving liver transplant.
For more information about liver disease and to request information packets, liver wellness educational programs; professional and patient liver updates throughout the year; referrals to local doctors in your area; research awards program; support groups; and much more contact: GO LIVER HELPLINE 1-800-GO-LIVER.
###