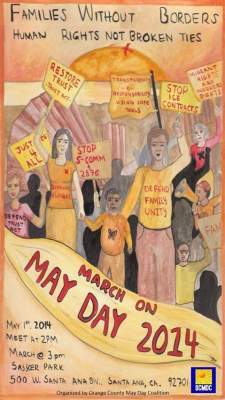 The Santa Ana 2014 May Day March is set for May 1, 2013 with registration at 2 pm at the corner of 4th St. and Ross St., with the March starting at 3 pm, at Sasscer Park, located at 500 West Santa Ana Blvd., in Santa Ana.
May Day in Orange County!
Families Without Borders: Human Rights Not Broken Ties
SANTA ANA – The movement for social justice in Orange County will once again demonstrate its growing strength and diversity Thursday, May 1 in downtown Santa Ana. Hundreds of community members and allies will convene on this International Workers' Rights Day to demand national and local solutions that expand human rights for all regardless of immigration status.
WHO: The Orange County May Day Coalition joined by Hermandad Mexicana
WHEN: Thursday, May 1, 2014 at 2:00 pm program at Sasscer Park, march at 3:00 pm, post-march program at Sasscer Park scheduled to end at 6:00 pm
WHERE: Sasscer Park located at 4th and Ross Streets, Santa Ana, California
WHY: The Orange County May Day Coalition calls on the Santa Ana City Council to pass its proposed ordinance directing the Santa Ana Police Department to stop collaborating with Immigration and Customs Enforcement (ICE) by 1) ending the practice of honoring detention hold requests, and 2) canceling its contract with ICE for bed space.
VISUALS: Community members, artists, puppets, walking art installations, walking murals, signs, banners, street theater
Detention hold requests are issued by ICE to local, state and federal law enforcement agencies to detain suspected non-citizens held at their facilities in order to give ICE an opportunity to take them into its custody. Since 2009, the Santa Ana Police Department has earned millions in revenue by housing immigration detainees in the City Jail. The Santa Ana City Jail currently faces a budget deficit estimated between $2 and $7 million. Last summer, the City agreed to produce a report of the jail's finances.
"The City of Santa Ana has not been forthcoming with its Jail profitability report," says Theresa Dang, core member of the Orange County May Day Coalition. "We need transparency in order to balance the City budget in the interest of all residents and we believe it is in the best interest of the community to have federal and local policies that promote family unity."
Current enforcement practices still target people with no criminal record. According to the Transactional Records Access Clearinghouse (TRAC) at Syracuse University, of the more than 436,000 detainers issued by ICE in 2013, 50 percent were issued for individuals with no prior criminal record — either at the time the detainer was issued or subsequently. In the same year, the Orange County Sheriff honored over 5,500 detention requests, of which 42 percent targeted individuals with no prior criminal record; the Santa Ana Police Department honored 240, of which 59 percent targeted individuals with no prior criminal record.
"We want to stop the deportations" says Lupita Cisneros, President of the Fullerton DREAM Team. "Most of the Obama administration's over 2 million deportations have been of people with no criminal convictions. Of the deportees with criminal charges, most of them have been for minor offenses. We are not criminals. The separation of families and attempt to profit from this separation is shameful. We call on the City of Santa Ana to end this practice immediately."
This event is organized by the Orange County May Day Coalition, and is free and open to the public.
The Orange County May Day Coalition is a community-centered coalition of organizations and individuals; member organizations include American Indian Movement, California DREAM Network, Chican@s Unidos, El Centro Cultural de México, Fullerton DREAM Team, Industrial Workers of the World, OC DREAM Team, OC Peace Coalition, Occupy Santa Ana, Santa Ana Mountains Wild Heritage Project, SEIU-USWW, and Tonantzin Collective.
Hermandad Mexicana is a non-profit, community-based organization dedicated to providing for and protecting the rights of Spanish-speaking immigrants.
For more information, visit www.ocmdc.org.
###