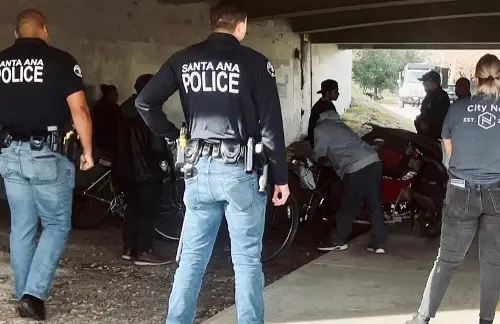 The Santiago Creek area, in Santa Ana's Santiago Park, got cleaned up again on Wednesday morning, as a large scale, multi-agency initiative involving the City of Santa Ana, the City of Orange, Cal Trans, California Highway Patrol, City Net (a homeless outreach provider contracted by the City), and the County of Orange Mental Health Services Agency worked collaboratively to address homelessness at various locations in that area.
Cal Trans and the City of Santa Ana contract crews cleaned the area of any abandoned property and graffiti. City Net also offered services to 23 individuals experiencing homelessness but only 1 individual accepted shelter.
City Net will continue to connect with individuals experiencing homelessness in the city through ongoing case management support.
Additionally, 11 individuals were arrested for outstanding warrants, trespassing or other SAMC violations. Regrettably such individuals often end up right back on the street in short time.
Learn more about the City of Santa Ana's work to address homelessness on our data dashboard at https://www.santa-ana.org/HomelessData.