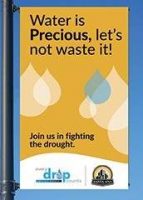 City of Santa Ana, Downtown Orange County
Water Resources Division Honored For "Best Water Program" in California for small communities
SANTA ANA, Calif., April 19, 2017—The City of Santa Ana won the 2017 Resource Efficiency & Community Service Award by the California Municipal Utilities Association (CMUA) for its water conservation program called "Every Drop Counts: Let's Not Waste It." The best public utilities in California compete for this highly coveted award each year, and Santa Ana's campaign was selected among all other utilities in its size category as the most innovative and effective community program designed to save water resources.
"Santa Ana has a consistent track record of implementing innovative programs to help our customers save money and conserve water," said Orange County Water District Board Director and Santa Ana Councilmember Vicente Sarmiento. "'Every Drop Counts' proved to be a highly successful community outreach program that created qua ntifiable results in reducing water use citywide."
Recognizing the importance of indoor and outdoor conservation in managing the ongoing drought and in establishing water efficiency for a sustainable future, the City of Santa Ana, Water Resources Division launched an integrated water conservation campaign.
In addition to helping the City meet its 12% water reduction target, the campaign educated Santa Ana residents and businesses about the drought and the importance of water conservation along with urging customers to take action to conserve water. The message stressed how simple it is to adopt effective water-saving habits, and that saving every day can easily become a way of life.
The Water Resources Division used a wide range of channels to reach the community, from outdoor advertising, street pole banners lining main thoroughfares, pull-up banners for public areas and community events, to printed flyers, bill inserts and newsletters as well as a robust social media campaign. Materials were created in multiple languages to ensure the campaign reached the entire community, both English and non-English speaking residents. Featured activities included an educational Water Forum, a Youth Poster Contest and participation in hundreds of community events.
'Every Drop Counts' made a significant difference in awareness and residents took the conservation message to heart, according to Nabil Saba, Water Resources Division Manager. It resulted in reduced community water consumption by 17%, exceeding the City's target and coming in below the state average in residential per-capita water use.
"The citizens of Santa Ana should be proud of their locally owned water agency," said Barry Moline, CMUA executive director. "Their leadership and innovative ideas are helping save our natural resources, as well as bringing great value to the community."
City of Santa Ana Public Works Agency
The City of Santa Ana Public Works Agency, with its four divisions and professional staff of more than 200 employees, is responsible for the city's infrastructure and quality of life. The agency builds and maintains all public streets, storm drains, sewers, and water facilities, as well as coordinates refuse collection and recycling, street sweeping, public right-of-way landscaping, and graffiti removal. It also ensures the community enjoys high quality drinking water and is able to travel around the City efficiently through the use of a state-of-the-art traffic management system, and collaboration with neighborhood associations and developers to resolve speeding, parking, and traffic problems.
California Municipal Utilities Association
The California Municipal Utilities Association is the statewide trade association of municipal water and power utilities. CMUA members are not-for-profit utilities representing 70% of water delivered and 25% of electric delivered in California. The awards were judged by six individuals and were chosen in a competitive process. These professionals include electric and water utility directors, legislative staff from the California Senate, and electric and water industry representatives. These awards represent best practices and innovative ideas for these industries.