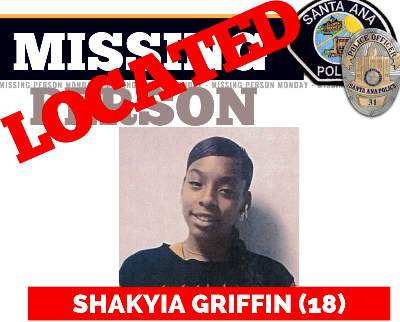 Shakyia Griffin has been safely located.
ORIGINAL MESSAGE
Missing Person: Shakyia Griffin (18) Santa Ana
Description: Black, Female, 5'9", 180 lbs., and she was wearing weaves in her hair at the time she went missing. She has unknown tattoos on her left forearm.
On 01/23/2018, sixteen-year-old missing person Shakyia voluntarily left her home she had been placed in by Los Angeles County Department of Children and Family Services. She immediately left the area and is believed to be in the Los Angeles area and/or Las Vegas.
Shakyia is now eighteen-years-old and her case with DCFS is closed. We need to make contact with her to verify she is okay and then the Missing Persons case can be closed.
Anyone with information on the whereabouts of Shakyia are asked to contact Investigator Jurado at ‪714-245-8353 and/or vjurado@santa-ana.org or Detective Garcia at 714-245-8408 and/or agarcia3@santa-ana.org.‬