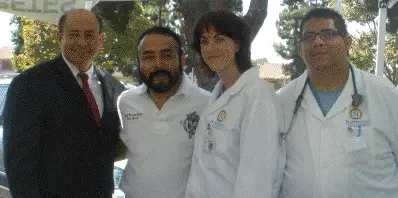 Above: Senator Lou Correa stands with InterAmerican Sports Association Founder Edgar Vazquez and students of Newbridge College, which trains medical assistants.
Seeking to demonstrate its commitment to community health and fitness, the InterAmerican Sports Association hosted its first health fair on Sunday, August 15, 2010.  Click here to see their official newsletter about the event.
The fair at Mile Square Park, titled Soccer+ Salud =Solución, was co-sponsored by health care agency CalOptima. Ten health agencies and five others local companies participated.
"We've taken a first step to think of ourselves as more than a mere administrator of athletic games," said
InterAmerican Sports Association founder Edgar Vazquez. "We are fulfilling our role as a partner in the community. Through our players who compete every day of the week, we have contact with thousands of families in Santa Ana and we want them to know more about how to improve their health."
Participant Ricardo Sanchez, state coordinator of Por La Salud y Educación del Migrante, an arm of the Mexican government, administered more than forty glucose tests and gave dozens of other exams on Sunday. Among those he tested: a man who learned he likely has diabetes, a new resident of the area who did not know how to get diabetes medications and a woman who mistakenly thought she doesn't need annual well woman checks because she is no longer married.
"We need to reach people one at a time, face to face," he said. "It's an event like this that gives us that chance at improving public health."
About the InterAmerican Sports Association
The InterAmerican Sports Association is a league comprising 2,000 soccer players who play in 150 teams. The association, founded in 1991, The association estimates it has hosted 25,000 games since. The league leases fields from the city of Santa Ana and works diligently with city officials to maintain them. Soccer is the largest single source of physical activity in Santa Ana. There are 30,000 players in the city: an estimated one in every 17 adults playing the sport and one in four children on a team.