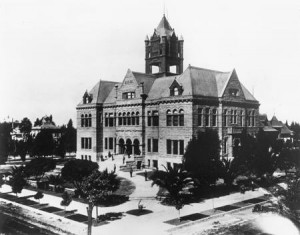 The Light Impressions Archival Workshop is coming to the Old Orange County Courthouse on Saturday, October 3, 2009, from 9:00 a.m. to 2:30 p.m.
Join us for the 5th annual workshop to learn about the newest and best archival practices! This workshop is intended for both volunteers and professionals who work with historical collections. It's also a great time to learn about taking care of family heirlooms.  Registration materials will be available in early September.  Please call (714) 973-6610 for more information.
The Light Impressions Archival Workshop is an opportunity for professionals, volunteers, students and private collectors to learn more about the care of historical materials. Taught by leading professional in their fields, classes range from a basic beginner's overview to in-depth demonstrations on how to correctly care for textiles and photos.
Choose from four all-day sessions: Continue reading→