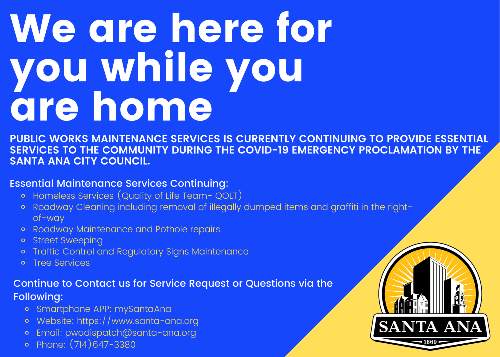 The City of Santa Ana Public Works Maintenance Services are operational and continue to provide essential services to the community during the COVID-19 emergency proclamation by the Santa Ana City Council. The following essential Maintenance Services continue as scheduled:
• Homeless Services (Quality of Life Team – QOLT)
• Roadway Cleaning including removal of illegally dumped items and graffiti in the right-of-way
• Roadway Maintenance and Pothole repairs
• Street Sweeping
• Traffic Control and Regulatory Signs Maintenance
• Tree Services
Please continue to contact Public Works Maintenance Services for requests and questions through the following:
• Smartphone APP: mySantaAna
• Website: https://www.santa-ana.org
• Email: pwadispatch@santa-ana.org
• Telephone: (714) 647-3380
Rest assured Santa Ana Public Works is always here for you. For additional information on Maintenance Services, please visit https://www.santa-ana.org/pw/streets-and-right-way-maintenance.