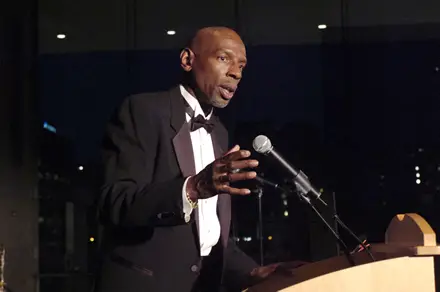 THINK Together's annual major fundraiser brings together hundreds of compassionate, generous individuals and corporations who share our vision of surrounding schools with learning and helping California's children close the achievement gap. This year's dinner event will feature a fascinating dialogue with a nationally leading educational expert followed by dessert and a book signing; public acknowledgment of our remarkable donors; and an inspirational progress report by THINK Together Founder and CEO Randy Barth.
Date/Time/Place
Saturday, June 11, 2011
6:00 to 8:00 p.m. (end time approximate)
Hilton Anaheim
Keynote Speaker: "Dialogue with Geoffrey Canada"
THINK Together proudly presents this year's keynote speaker, Geoffrey Canada, President and CEO of the extraordinary Harlem Children's Zone. A nationally renowned advocate for educational reform, Mr. Canada was prominently featured in the eye-opening documentary about America's educational system, "Waiting for Superman." During a Dialogue with Geoffrey Canada, he invites the guests to an open conversation about the dire state of America's public education system – and what we as a collective group can do to impact local change.
Online RSVP
Click here to reserve your seat for this important event. Each year the event sells out, so be sure to register today.
Contact Us
We'd love to hear from you and answer any questions you may have about THINK Together and our upcoming fundraiser. You can reach us at:
Phone: 714.543.3807 ext. 8118
Fax: 714.543.3852
Email: MCastillo@THINKtogether.org
Physical Address (Home office) : 2100 E. Fourth St., Ste.200 Santa Ana, CA 92705