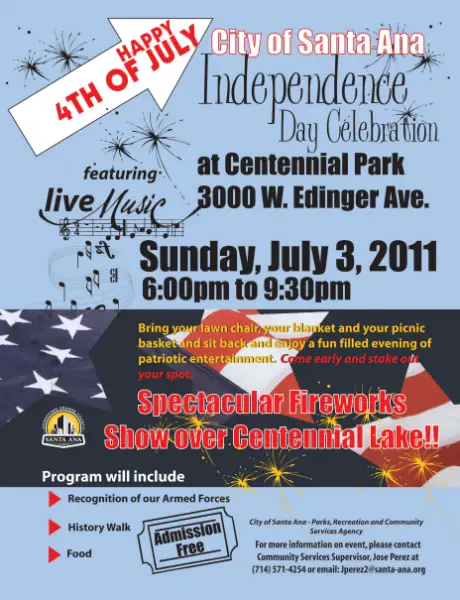 PRESS RELEASE
Contact: Jose Perez, Community Services Supervisor, Parks, Recreation, and Community Services Agency, City of Santa Ana, (714) 571-4254
Santa Ana's Relights Independence Day Fireworks Show
FOR IMMEDIATE RELEASE
SANTA ANA, CA – Santa Ana is putting the bang and sizzle back into its Independence Day Celebration at Centennial Park with the reintroduction of a spectacular fireworks show.
The last July 4th fireworks show in Santa Ana was seven years ago.
The celebration at Centennial Park at 300 W. Edinger Ave. starts at 4 p.m. on July 3 with a special History Walk so children can learn about the nation's history in a fun way.
The evening also includes a Kid Zone Play area, live entertainment and a special salute to the armed forces. The Santa Ana High School Marching Band will perform. Admission is free.
Pyro Spectaculars will light up the sky over Centennial Lake at 9 p.m. with a breath-taking fireworks display.
"What better way to promote our nation's birthday, with family time, a picnic in the park, enjoy music and a great fireworks show," said Councilmember Carlos Bustamante.
Private donations made the event possible.
"From the beginning our goal was to involve all members in the community interested in helping Santa Ana celebrate Independence Day," said Councilmember David Benavides. " We were fortunate that a diverse group of community members volunteered many hours on a planning committee and came through in a big way."
To access an event flyer in English, please click here:
To access an event flyer in Spanish, please click here:
Centennial Park is located on the southwest corner of Fairview and Edinger avenues.
###