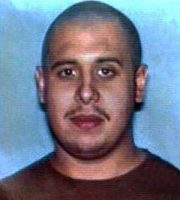 Marvin Horatio Cipullo, 32, a man diagnosed with schizophrenia will be sent to a state mental hospital instead of prison for stabbing his mother, 57-year-old Rebeca Garcia, to death in their Santa Ana home, according to the O.C. Register.

Cipullo stabbed Garcia with a kitchen knife in her home back in September 2010 and then he took off. Her body was found by her other son.
Garcia lived with her boys and her mother and also ran a board-and care facility in the back of her house, that had three patients.
Garcia, a licensed caretaker, ran a board-and-care facility in the back of her home and lived there with her mother, her two sons and three patients.
Apparently Cipullo had what was termed to be a "volatile" relationship with Garcia, who asked him to move out of her home before he stabbed her to death.
Cipullo accepted a plea deal this week when he pleaded guilty to second-degree murder. He was sentenced to 15 years to life to be served in a state mental hospital.
The judge took into account the fact that Cipullo had been diagnosed with schizophrenia and he also suffered from hallucinations and delusions.
Cipullo will only stay at the mental hospital until they find him to be sane. At that point a parole board might end up releasing him. But if he is found to be sane before his 15-year minimum sentence ends then he will have to finish out his term at a state prison.