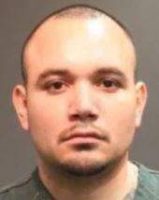 Hector Maldonado Ibarra, a 30-year-old Santa Ana man, plead guilty on Monday to five theft cases involving stealing from stores – including the pistol whipping of one victim, according to the O.C. Register.
Ibarra was sentenced to only six years in prison for two felony cases and several misdemeanors.
Ibarra was arrested back on Jan. 10, 2017, for allegedly "pistol whipping" a worker with a leaf blower on Nov. 23, 2016. Ibarra was reportedly angry that the worker was dirtying his vehicle with dust. That vehicle, according to the SAPD, was used in numerous shoplifting crimes and robberies in multiple cities. Ibarra has been behind bars since that arrest.
At one time there were as many as 18 cases connected to Ibarra including thefts of purses, wallets and other clothes from retailers including Marshalls and T.J. Maxx in Huntington Beach, Costa Mesa, Santa Ana, Anaheim, Tustin and Aliso Viejo, according to the OCDA.
In one of the robbery cases Ibarra is suspected of brandishing a gun at a Marshalls department store on First Street in Santa Ana and then fleeing with stolen goods. At the time the SAPD only had a partial suspect profile.
Ibarra was also suspected of using his own kids to help him shoplift.
The SAPD got a break in the Marshalls case when they spoke with the security guards at Marshalls who work in loss prevention. They told the SAPD police investigator that they thought Ibarra might be involved in shoplifting at several Marshalls and T.J. Maxx department stores. That information helped to tie all the cases together.
The SAPD then set up a task force to review all of the crimes but even with surveillance video on hand they were not able to identify Ibarra. Somehow he was not getting caught even after going back to the same stores.
However at one point a store in Costa Mesa was able to find out Ibarra's name and they gave that information to the SAPD investigator. But he was then stymied because Ibarra used a lot of fake names and addresses.
Ibarra finally screwed up when he pulled a gun and struck an apartment complex manager. Ibarra had pulled into the apartment complex to buy food from a nearby food truck and he was mad because the apartment manager was using a leaf blower in the parking lot at the time. The manage rightfully told Ibarra he had no business being at the apartment complex. Ibarra responded by becoming violent with him. His blow struck the apartment manager's cheek bone.
Ibarra confessed that he had a heroin habit and was stealing to pay for his addiction.
Other charges that Ibarra pleaded guilty to previously included:
Ibarra pleaded guilty on March 7, 2014, to possession of drug paraphernalia and was sentenced to three years of probation and ordered to undergo a drug program, according to court records.
Ibarra pleaded guilty to driving on a suspended license June 30, 2014, and was sentenced to 10 days in jail, according to court records.
Ibarra pleaded guilty Dec. 2, 2014, to petty theft and was sentenced to 120 days in jail, according to court records.
Ibarra again pleaded guilty to misdemeanor possession of drug paraphernalia on July 20, 2016, but his sentence was suspended, according to court records.