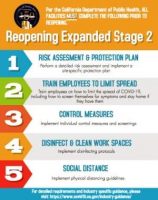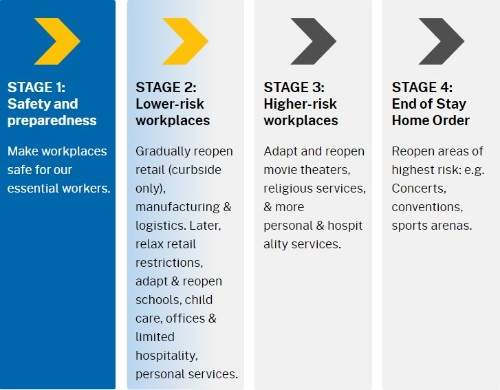 All businesses in the City of Santa Ana are asked to implement measures required under State guidelines in preparation for an expanded Stage 2 reopening in Orange County.
On May 18, 2020, Gov. Gavin Newsom announced updated criteria for counties to receive approval for businesses to re-open in the expanded Stage 2. The City of Santa Ana was informed today that the County submitted its documentation to the State and is awaiting approval.
Currently, essential businesses and services are allowed to operate, along with restaurants and retailers only for curbside pickup and delivery and related manufacturing and logistics businesses.
The expanded Stage 2 would allow more industries and services to reopen, including:
• Destination retail, including shopping malls and swap meets
• Personal services, limited to: car washes, pet grooming, tanning facilities and landscape gardening
• Office-based businesses (telework remains strongly encouraged)
• Dine-in restaurants (other amenities like bars or gaming areas are not permitted)
• Outdoor museums and open gallery spaces
• Schools
Per the California Department of Public Health, all facilities must complete the following prior to reopening:
1. Perform a detailed risk assessment and implement a site-specific protection plan
2. Train employees on how to limit the spread of COVID-19, including how to screen themselves for symptoms and stay home if they have them
3. Implement individual control measures and screenings
4. Implement disinfecting protocols
5. Implement physical distancing guidelines
Guidance for most industries is available at https://covid19.ca.gov/industry-guidance/
Guidance for shopping centers is at https://covid19.ca.gov/pdf/guidance-shopping-centers.pdf
Guidance for dine-in restaurants is at https://covid19.ca.gov/pdf/guidance-dine-in-restaurants.pdf
The County of Orange and City of Santa Ana do not need to review individual COVID-19 Response plans from businesses.
For more information about the state's reopening plan, please visit https://covid19.ca.gov/. For COVID-19 information from the City of Santa Ana, please visit www.santa-ana.org/covid19.
Se Pide a Las Empresas Que Se Preparen Para una Mayor Reapertura
Se les pide a todos los negocios en la Ciudad de Santa Ana que implementen las medidas requeridas bajo las directrices Estatales en preparación para una reapertura de la Etapa 2 ampliada en el Condado de Orange.
El 18 de mayo de 2020, el Gobernador Gavin Newsom anunció criterios actualizados para que los condados reciban la aprobación para reabrir las empresas en la Etapa 2 ampliada. La Ciudad de Santa Ana fue informada hoy de que el Condado presentó su documentación al Estado y está esperando aprobación.
Actualmente, las empresas y servicios esenciales pueden operar, junto con restaurantes y minoristas solamente para la recogida y entrega a la banqueta y las empresas relacionadas de fabricación y logísticas.
La Etapa 2 ampliada permitiría la reapertura de más industrias y servicios, que incluyen:
• Venta minorista de destino, incluidos centros comerciales y mercados al aire libre / tianguis
• Servicios personales, limitados a: lavado de autos, aseo de mascotas, salones de bronceado y jardinería paisajística
• Empresas basadas en la oficina (el teletrabajo sigue siendo muy recomendable)
• Restaurantes para cenar (no se permiten otros servicios como bares o áreas de juego)
• Museos al aire libre y espacios abiertos de la galería.
• Escuelas
Según el Departamento de Salud Pública de California, todas las instalaciones deben de completar lo siguiente antes de reabrir:
1. Realizar una evaluación de riesgos detallada e implementar un plan de protección específico del sitio
2. Capacitar a los empleados sobre cómo limitar la propagación de COVID-19, incluida la forma de detectar síntomas y quedarse en casa si los tienen
3. Implementar medidas de control individuales y evaluaciones
4. Implementar los protocolos de desinfección.
5. Implementar directrices de distanciamiento físico
La información de guía para la mayoría de las industrias está disponible en https://covid19.ca.gov/industry-guidance/
La información de guía para los centros comerciales está en https://covid19.ca.gov/pdf/guidance-shopping-centers.pdf
La información de guía para los restaurantes de cenar está en https://covid19.ca.gov/pdf/guidance-dine-in-restaurants.pdf
El Condado de Orange y la Ciudad de Santa Ana no necesitan revisar los planes individuales de las empresas de respuesta al COVID-19.
Para obtener más información sobre el plan de reapertura del Estado, visite https://covid19.ca.gov/. Para obtener información sobre COVID-19 de la Ciudad de Santa Ana, visite www.santa-ana.org/covid19.