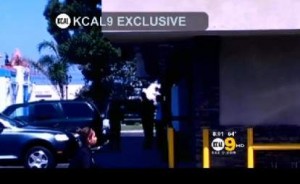 About 30 showed up to protest the Santa Ana Police Department.  They question whether the 5 deadly police shootings in the city this year were justified. "We want to let Santa Ana Police know that they are out of control and that we want them to stop killing the citizens of Santa Ana.  This is the 5th person they've killed in their city this year," said Terri Teramura, a local activist, according to Fox News.
But a security guard, who wished to remain unidentified, told CBS News, that on July 12—two weeks before Hans Kevin Arellano was shot once in the chest in a shopping center parking lot during a confrontation with a female veteran officer—he got into a physical altercation with the suspect outside of Northgate Market on Harbor Boulevard.
Apparently Arellano stole a beer and when the security guard confronted him, the beer can ended up being used as a weapon. The security guard tried to mace Arellano but ended up macing himself.
All that aside, should our police execute troubled homeless men, who are unarmed?  Of course not and that is the crux of this story.
CBS also posted a video shot by a witness, that clearly shows that Arellano was unarmed.