An online petition has been created, to save Santa Ana City Manager Paul Walters.  You may click here to sign it – the petition will be delivered to each of the Santa Ana City Council Members via email.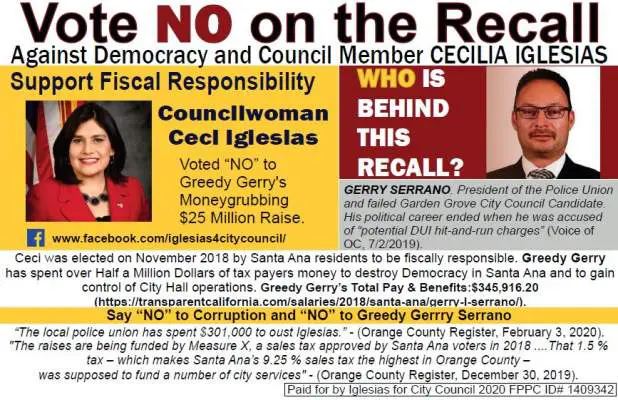 Here is the letter you will be sending to the Council Members:
Isn't it time for Santa Ana to have a voice on the O.C. Board of Supervisors?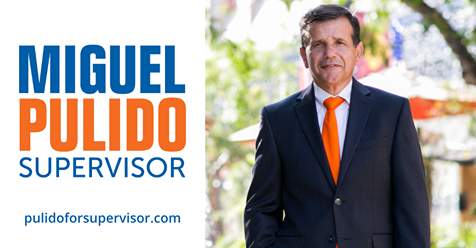 Paid for by Miguel A. Pulido for Supervisor 2020 (ID #1422663)
To:
Sal Tinajero, Santa Ana Mayor Pro Tem
David Benavides, Santa Ana City Council Member
Michele Martinez, Santa Ana City Council Member
Angelica Amezcua, Santa Ana City Council Member
Vincent Sarmiento, Santa Ana City Council Member
Roman Reyna, Santa Ana City Council Member
We the people are not happy about this war that you are waging on our great City Manager, Paul Walters. We ask that you immediately cease and desist from your threats to fire him. You should be honoring him for saving our city from a massive budget crisis last year.Walters has more experience than any other possible candidate for City Manager – and you, the Council, voted unanimously to hire him last year. He has faithfully served our city as our Chief of Police – and he oversaw the construction of our Police Headquarters and a City Jail that employs 100 personnel and brings in $15 million per year to our city coffers.Walters has through the years proven to be adept at bringing state and federal grants to our city. We need that prowess now more than ever!
Please do not fire Walters. Instead we ask that you get back to work doing what we elected you to do. It is not his job to provide a plan – that is YOUR job! If you cannot perform we ask that instead of firing Walters you each consider resigning so that someone else may step up and serve the people of Santa Ana.
Please know that if you follow through on your threats to dismiss Walters we, the signers of this petition, will hold you each accountable. This is how recall elections are born!
It is not too late for you, our Council Members, to make amends and get back to the people's business. We ask that on Jan. 22, at your next City Council meeting, you drop this matter and leave Walters alone.
Sincerely,
Advertisement
Is your employer a mess? Call Sasooness.
In the state of California for every 5 hours worked an employee must get a 30 minute, uninterrupted lunch break. For every 3 hours worked an employee must get an uninterrupted 10-minute rest break. Working over 8 hours in a day or 40 hours in a week is due overtime. Don't let your employer screw you! Give us a call at 323 746-8099.
En el estado de California por cada 5 horas de trabajo su patrón le debe permitir tener un receso de media hora sin interrupciones. Si trabaja más de 8 horas en un día o más de 40 horas de trabajo en una semana su patrón le debe pagar tiempo y medio. No deje que su patrón abuse de su trabajo. No importa que no tenga papeles. Usted tiene derechos. Llamenos al 323 746-8099.
[Your name]