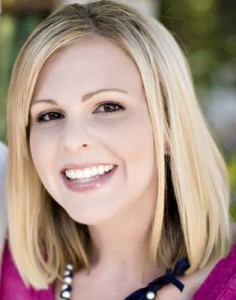 KRISTYN VON ROTZ HONORED WITH FAIRHAVEN'S OLIVER HALSELL CARE AWARD
Orange resident honored for supporting families through OC Walk to Remember
Orange, Calif. – August 21, 2013 – For Kristyn von Rotz, offering families support after the loss of a child is an immense objective in her life. The Orange-based freelance writer and full-time mother of three (four including her 'angel' Joseph whom she lost at birth in 2004) dedicates herself passionately to OC Walk to Remember, a nonprofit organization she co-founded in 2005 to offer support and help families memorialize children they have lost. Von Rotz, through her vision and compassion, has touched the lives of many families who are grieving the loss of a child.
For her tremendous work and devotion to extending support to hospitals, support groups and other organizations that help families with losses during a pregnancy or infancy, von Rotz is being honored as the August recipient of Fairhaven's Oliver Halsell Care Award. Fairhaven, an Orange County mortuary and memorial park with locations in Santa Ana and Mission Viejo, created the recognition program in 2012 to pay tribute to individuals who have demonstrated exceptional care in their profession, community and the world at large.
"As someone with a personal connection to the organization's purpose, von Rotz makes deep connections with the many families that OC Walk to Remember serves," says Marla Noel, President of Fairhaven. "She demonstrates the fundamental nature of what it means to care about others and to make a significant impact on people's lives."
OC Walk to Remember's mission is to provide resources and education for parents, medical professionals, support groups and anyone else who is in need of this type of support.
OC Walk to Remember also gives people the opportunity to receive individual therapy, participate in events in memory of their child and interact with others who share their experience. The organization's signature event is the Memorial Service 5K Walk and Celebration of Angels, which will happen on Saturday, October 5, 2013 at the District at Tustin Legacy to help raise money for local organizations.
For each family that is suffering the loss of a child, von Rotz shares their pain. "Caring means giving your heart and soul to the people and causes you love," von Rotz says. "It means reaching out and making a difference in this world. Whether you touch one person or thousands, you've made an impact all the same."
Von Rotz also shows an immense appreciation for the remarkable help from family and volunteers. Whether their support comes through donations or through hours devoted, she feels that they helped in making OC Walk to Remember possible.
Von Rotz will be honored at Fairhaven's Oliver Halsell Care Awards banquet in the fall at Fairhaven's Mission Viejo location. The banquet honors a year's worth of achievements among the local community. Additionally, Fairhaven will make a donation to OC Walk to Remember in her honor.
About Fairhaven's Oliver Halsell Care Award
Fairhaven's Oliver Halsell Care Award pays tribute to Orange County individuals whose kindness and dedication to serving others is inspirational. These courageous individuals go above and beyond their job descriptions to serve with the utmost care and compassion. Fairhaven's Oliver Halsell Care Award winners come from many fields including private care, hospice, social work, counseling, assisted living, nursing, therapy and volunteer work.
For more information and to nominate a deserving candidate, visit Fairhaven's website: http://www.fairhavenmemorial.com/community/oliver-halsell-care-award or email CareAwards@FairhavenMemorial.com.
About Fairhaven
Founded in 1911 by Oliver Halsell to provide a peaceful and comforting place for families to honor their loved ones, Fairhaven Memorial Park & Mortuary is Orange County's most beautiful independently owned and operated full-service mortuary, crematory and cemetery. With the memorial park and mortuary in Central Orange County and an elegantly appointed mortuary in South Orange County, Fairhaven provides funeral, cremation and burial services both at the time of need and through advanced planning, maintaining its steadfast commitment to care and compassion. Fairhaven is dedicated to celebrating the individual, providing services that are as unique and wide-ranging as the people they celebrate. Additional information is available at www.fairhavenmemorial.com. Connect with Fairhaven at www.facebook.com/fairhavenmemorial or www.twitter.com/fairhavenoc.
# # #