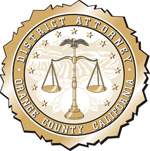 ORANGE COUNTY DISTRICT ATTORNEY PRESS RELEASE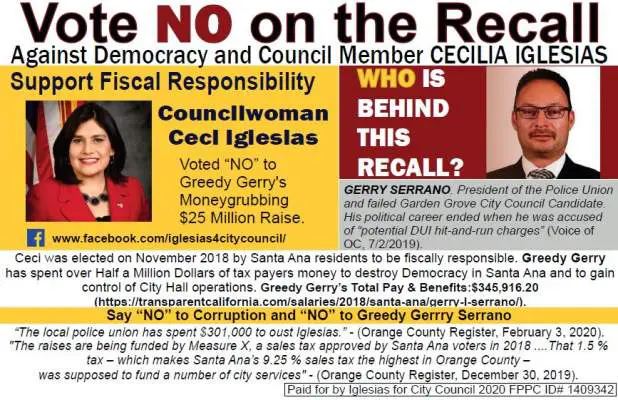 Case # 14WF4277
Isn't it time for Santa Ana to have a voice on the O.C. Board of Supervisors?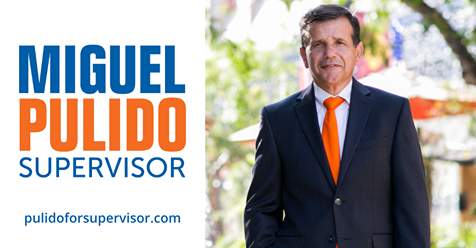 Paid for by Miguel A. Pulido for Supervisor 2020 (ID #1422663)
Date: January 9, 2015
Advertisement
Is your employer a mess? Call Sasooness.
In the state of California for every 5 hours worked an employee must get a 30 minute, uninterrupted lunch break. For every 3 hours worked an employee must get an uninterrupted 10-minute rest break. Working over 8 hours in a day or 40 hours in a week is due overtime. Don't let your employer screw you! Give us a call at 323 746-8099.
En el estado de California por cada 5 horas de trabajo su patrón le debe permitir tener un receso de media hora sin interrupciones. Si trabaja más de 8 horas en un día o más de 40 horas de trabajo en una semana su patrón le debe pagar tiempo y medio. No deje que su patrón abuse de su trabajo. No importa que no tenga papeles. Usted tiene derechos. Llamenos al 323 746-8099.
MAN CHARGED WITH MURDERING FRIEND BY CRASHING TRUCK AND ASSUALTING TWO POLICE OFFICERS DURING HIGH SPEED PURSUIT
WESTMINSTER – A man is scheduled to be arraigned today for murdering a friend after assaulting two police officers and leading police on two separate high speed pursuits in Westminster. Javier Homero Montoya, 41, Riverside, is charged with one felony count each of murder, assault with a deadly weapon, evading peace officers while driving recklessly, evading peace officers while driving recklessly causing serious bodily injury or death, and two felony counts of aggravated assault on a peace officer. He faces a sentencing enhancement for a prior serious felony conviction in 2000 for committing a residential burglary in Riverside County. If convicted, Montoya faces a maximum sentence of 59 years to life in state prison. He is being held on $1 million bail and is scheduled for a continued arraignment hearing today, Jan. 9, 2015, in Department W-12, West Justice Center, Westminster. The time is to be determined.
At approximately 7:15 p.m. on Dec. 1, 2014, the defendant is accused of driving a Ford F-150 pickup truck and leaving a 24 Hour Fitness parking lot in the Westminster Center. Montoya is accused of failing to stop for two Westminster Police Department (WPD) officers attempting to perform a routine traffic stop on the defendant's vehicle. The defendant is accused speeding off and driving recklessly while leading WPD officers on a high speed pursuit on the northbound Interstate 405. During the pursuit, Montoya is accused of slamming on his brakes, causing a pursuing WPD vehicle to collide with the back of the defendant's truck. He is accused of hitting the side of another WPD officer's vehicle before fleeing the scene, managing to escape from the police officers.
At approximately 11:30 p.m., Montoya is accused of driving his pickup truck from an apartment complex in Westminster with his friend, 43-year-old Alberto Marquez, seated in the passenger seat. The defendant is accused of driving near the Westminster Center before being spotted again by WPD officers. He is accused of failing to stop for WPD officers, as they attempted to perform another traffic stop. Montoya is accused of leading WPD officers on a second pursuit, driving northbound on the Interstate 405 traveling at speeds of up to 90 miles per hour with his headlights off. The defendant is accused of losing control of the truck near the Interstate 710 interchange and crashing into trees and light poles off the side of road before coming to a stop.
Montoya and Marquez were trapped in the vehicle which had caught fire as a result of the collisions. Both Montoya and the victim were removed from the vehicle. Marquez was pronounced dead at the scene and Montoya was transported to Long Beach Memorial hospital and treated for minor injuries and was subsequently arrested by WPD.
WPD investigated this case.
Senior Deputy District Attorney Jennifer Walker of the Homicide Unit is prosecuting this case.
###
TONY RACKAUCKAS, District Attorney
Susan Kang Schroeder, Chief of Staff
Office: 714-347-8408
Cell: 714-292-2718