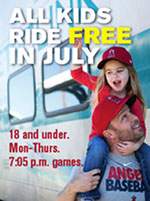 Kids Ride Free on Angels Express
(Courtesy of Orange County Transportation Authority)
July is a great time to head out to the ballgame. In July, all kids 18 and under get to ride for free on the Angels Express to games that start at 7:05 p.m. Monday through Thursday.
Normally, roundtrip adult tickets on the Angels Express are $7, $6 for seniors and the disabled and tickets for kids between the ages of 6-18 are $4. Up to three younger children can ride free with a fare-paying adult. Not bad for a rolling Angels' party train that delivers game attendees straight to the Angel Stadium parking lot – no parking fee required.
The July all-kids-ride-free special makes this great deal even better, presenting a tremendous opportunity to bring the entire troop or youth group out for a summer evening at the ball park.
Angels fans appreciate the service that helps them avoid traffic and parking hassles and have boosted Angeles Express ridership to a record 19,772 boardings. That is 7 percent higher than this time last year.
All kids ride free to these games:
Monday, July 21: Angels v. Baltimore Orioles
Tuesday, July 22: Angels v. Baltimore Orioles
Wednesday, July 23: Angels v. Baltimore Orioles
Thursday, July 24: Angels v. Detroit Tigers
View schedules, stations and other Angels Express information at octa.net/angelsexpress.
###