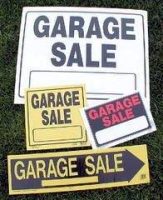 Garage and yard sale weekend is this weekend, March 7 and 8.
The City of Santa Ana allows garage sales for residential properties on the first full weekend of March, June, September and December each year. No permit is required.
Sales may only occur on Saturday and/or Sunday. Sales may begin at 8 a.m. and must end at 5 p.m.
For more information and the complete list of rules and regulations, please visit https://www.santa-ana.org/pb/code-enforcement-division/garage-and-yard-sales.
El fin de semana de ventas de garaje y patio es este fin de semana, el 7 y 8 de marzo.
La Ciudad de Santa Ana permite la venta de garajes para propiedades residenciales el primer fin de semana completo de marzo, junio, septiembre y diciembre de cada año. No se requiere permiso.
Las ventas solo pueden ocurrir el sábado y el domingo. Las ventas pueden comenzar a las 8 de la mañana y deben finalizar a las 5 de la tarde.
Para obtener más información y la lista completa de reglas y regulaciones, visite a https://www.santa-ana.org/pb/code-enforcement-division/garage-and-yard-sales
Address/Location
City of Santa Ana
20 Civic Center Plaza
Santa Ana, CA 92701
Contact
Emergency: 9-1-1
Non-emergencies: 714-647-5200