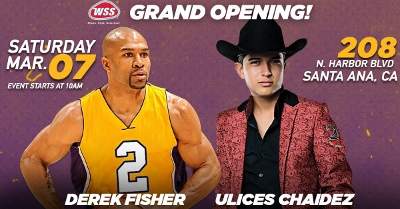 Meet 5x NBA champion Derek Fisher & Mexican singer Ulices Chaidez at WSS' Santa Ana Grand Opening event on Saturday, March 7th, from 10 a.m. to 3 p.m.
WSS is located at 208 N. Harbor Blvd., in Santa Ana.
The first 200 people in line will also receive a FREE WSS Mystery Gift Card. Stop by for music, games, giveaways & MORE! ⠀⠀
⠀⠀⠀⠀⠀⠀⠀⠀⠀⠀⠀⠀⠀⠀
*VIP access will be available on a first-come, first-served basis with a minimum purchase of $35 the day of the event. No purchase necessary to attend the event. General admission will be open until time permits. See store for details.
WSS is the premier footwear retailer in the U.S. for the Hispanic community. Founded in Southern California in 1984 by entrepreneur Eric Alon, WSS provides the best brands, greatest values and the largest selection of athletic, dress, fashion, and casual footwear for the entire family. With our large store format, WSS showcases thousands of styles from brands like Nike, Jordan, Vans, Converse, Adidas, Puma, Skechers, etc. In addition to these top name brands, WSS also carries high quality private brands to further build the breadth of selection and deliver amazing value to our customers.