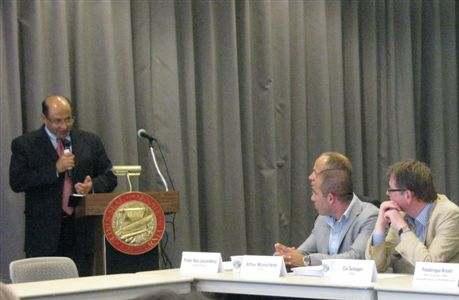 PHOTO: State Senator Lou Correa, left, delivering remarks at the "Orange Meets Orange" job creation/business development meeting.
NEWS RELEASE
State Senator, ­­­34th Senate District
FOR IMMEDIATE RELEASE: April 22, 2010
CONTACT: RAY MILLER (916) 651-1512
CORREA PARTNERS ORANGE COUNTY WITH DUTCH COMPANIES TO CREATE MORE JOBS
SANTA ANA, CA — Partnering Orange County businesses and officials with growing Dutch companies was the theme of Senator Lou Correa's (Orange County) inaugural job creation/business development meeting last Friday in Santa Ana.
Co-sponsored with the Netherlands Consulate General, Correa's "Orange Meets Orange" initiative is a series of new business "matchmaking" events that will explore new business opportunities for Orange County by bringing together Dutch-owned firms in numerous fields with prospective Orange County business partners and municipal officials.
Friday's initial event featured Dutch companies in such diverse fields as: desalination plants, levees and groundwater management, international transport, aircraft interior systems, banking and insurance, product branding, and environmental engineering, among others.
Correa said, "This new initiative with the government of the Netherlands has the ultimate goal of attracting more Dutch businesses to our area, ultimately creating more Orange County jobs as a result."
Correa serves as Chairman of the State Senate's Select Committee on California-European Trade which brings him in close contact with many European business interests looking to enter the California market or to expand existing operations here. He and the Netherlands Consulate General intend for this unique series of business matchmaking meetings in Orange County to continue through at least 2012, if not longer.
Correa said, "These partnering events will foster both business and governmental relationships for Orange County from companies in Holland that likely wouldn't occur here otherwise, benefiting both sides."
Correa added, "We all need to explore new ways of attracting more businesses to Orange County, and that includes pursuing companies that may be headquartered outside the United States."
Correa concluded, "In order to maximize opportunities for job growth in this tough economy, it's vital that we think a bit more unconventionally in our pursuit of new companies to our area. Numerous small- and medium-sized European companies are looking at California as a possible location for their future US expansion plans. Many of these specialize in "green" and other high-tech fields. We should capitalize on this interest in our state and strive to get these European firms focused specifically on Orange County and the many positive attributes it brings as an ideal business location.  My 'Orange Meets Orange' initiative is an effort to do precisely that."
Nearly 500,000 Californians currently receive their jobs from European-owned firms. This figure includes over 26,000 California jobs from Dutch-owned companies. When combined with exports and investment dollars earned by California, European companies and corporations support more than one million jobs in the "Golden State".
Senator Lou Correa represents the 34th District, which includes the cities of Anaheim, Buena Park, Fullerton, Garden Grove, Santa Ana, Stanton and Westminster.
####