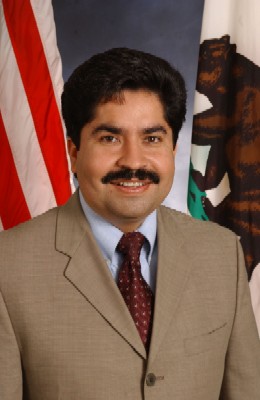 For Immediate Release: April 22, 2010
For More Information Contact: Carol Chamberlain – Office: (916) 319-2069 Cell: (916) 804-5355
Solorio Legislation to Provide Opportunities for Students to Learn English in After School Programs Clears Assembly Education Committee
Assembly Bill 1831 Would Update Prop 49 to Include English Language Acquisition Strategies
SACRAMENTO, CA – Assembly Bill 1831, legislation authored by Assemblyman Jose Solorio (D-Anaheim), to enhance opportunities for children to learn English in after school programs, received the endorsement of the Assembly Committee on Education yesterday on a 6-2 vote. The bill will now proceed to the Assembly Appropriations Committee.
"California serves more students in after school programs – including English learners – than any other state in the nation." Solorio said. "It just makes sense that California should lead the nation in providing quality after school programs for them to increase their literacy skills."
Assembly Bill 1831 would require After School Education and Safety Program Act applicants to include in their proposed program plan their strategy to support English language development if 15 percent or more of the pupils enrolled in the program are English learners. Strategies for training staff to support the English learner program would also be required.
"During the course of the school day, classroom speaking by students is estimated to be limited to only 90 seconds. That is just not enough time for students, especially those students who need to practice speaking English." Assemblyman Solorio added. "An effective after-school English-learning program can motivate children to use their emerging English to participate in activities and projects. It also provides students with more individual attention and more time to practice reading, writing and speaking."
The After School Education and Safety Program Act was the result of Proposition 49, a 2002 voter-approved initiative that funds local after school education and enrichment programs created through partnerships between schools and local community organizations. Their aim is to provide literacy, academic enrichment and safe alternatives for students in kindergarten through ninth grade.
"California's competitiveness depends on an educated workforce," said Solorio, a staunch advocate of learning and mastering English at an early age. "With the aid of after school programs providing academic enrichment for English learners, all California students will be able to succeed and help move California's economy forward."
California Department of Education data shows that in 2009, only 34 percent of English learners performed proficient or advanced in the 4th grade English language-arts portion of the California Standards Test compared to 69 percent of English-only pupils. In 4th grade math, only 47 percent of English learners performed proficient or advanced, whereas 70 percent of English-only pupils accomplished that threshold. Due to this achievement gap, many English learner high school students are not proficient enough in English to pass the high school exit exam.
State Assemblyman Jose Solorio is the Chair of the Assembly Insurance Committee and serves on the Assembly Transportation, Appropriations and Local Government committees. He represents the Sixty-Ninth Assembly District, which includes the cities of Anaheim, Garden Grove, and Santa Ana. For more information about Assemblyman Solorio, visit www.assembly.ca.gov/solorio.
________________________________________
Capitol Office: State Capitol, P.O. Box 942849 • Sacramento, CA 94249-0069
Phone: (916) 319-2069 • Fax:(916) 319-2169
District Office: 2400 East Katella Avenue, Suite 640 • Anaheim, CA 92806
Phone: (714) 939-8469 • Fax:(714) 939-8986
E-Mail: Assemblymember.Solorio@assembly.ca.gov
Web Site: www.assembly.ca.gov/solorio