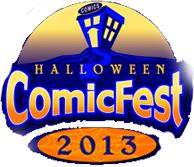 Celebrate Halloween at Comic Book Shops!
Visit a participating local comic book store this weekend, Oct. 26 and 27, and get one of 22 free comic books – including Batman, Spider-Man Thor and Sesame Street – at Halloween ComicFest 2013.
Your local comic book specialty shop is a great destination for the latest Halloween and horror pop-culture products and merchandise: from comics and graphic novels to costumes, toys and more! Plus, each shop has great Halloween events planned, so make sure you find your closest destination and come in and see what haunts your local comic book shop!
Local participating comic book stores include:
BIGGY'S COMICS & GAMES at 5110 Westminster Ave., in Santa Ana, CA, 92703.

(714) 537-7654.

COMICS TOONS 'N' TOYS at 13542 Newport Avenue, in Tustin, CA, 92780.

(714) 730-2117

.
PHAT COLLECTIBLES, at 1201 S Euclid St., in Anaheim, CA, 92804.

(714) 808-9355

.
CORNERSTORECOMICS at 980 Orangethorpe Ave., Suite A, in Anaheim, CA, 92801. 714) 626-0082.
TRINITY COMICS at 18814 Brookhurst St., in Fountain Valley, CA, 92708.

(714) 963-4196.

PHAT COLLECTIBLES INC., at 16532 Beach Blvd., in untington Beach, CA, 92647.

(714) 808-9355.