City of Santa Ana, Downtown Orange County
Community: Santa Ana Public Library Welcomes Writer/Director Josefina López / Santa Ana le da la Bienvenida a Josefina López
In honor of International Women's Month, the Santa Ana Public Library will host a very special speaking engagement in March with writer, director Josefina López.
Josefina López is best known for authoring the play and co-authoring the film Real Women Have Curves. She is an activist who has spoken out on topics such as Chicano theater, women's history issues, and minority representation in cinema. She has earned numerous awards and accolades for her work and she is the Founder and Artistic Director of CASA 0101 Theater in Boyle Heights.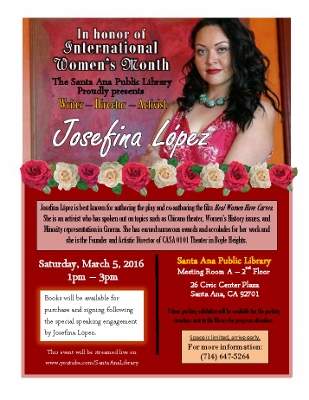 During the event Ms. López will share her experiences as a writer and a struggling artist. Following her program, there will be a Q&A portion where members of the audience will be able to address Ms. López. In addition, Josefina López will hold a signing for her books which will be for sale after the program. Learn more about Josefina López at http://josefinalopez.co.
The event will take place at the Main Library on Saturday, March 5, 2016 from 1:00 p.m. to 3:00 p.m. Space is limited, so please arrive early. The library will validate for up to two hours at the parking structure next to the library for program attendees.
This event will be recorded and streamed live on www.youtube.com/SantaAnaLibrary.
For more information, contact (714) 647-5267 or keep up with the Santa Ana Parks, Recreation and Public Library on social media @SantaAnaPRCSA
The Santa Ana Public Library is located at 26 Civic Center Plaza, Santa Ana, CA (corner of Civic Center and Ross).