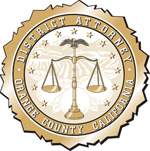 ORANGE COUNTY DISTRICT ATTORNEY PRESS RELEASE
FOR IMMEDIATE RELEASE, Case # 13WF2462: September 12, 2013
WOMAN TO BE ARRAIGNED FOR LOSING CONTROL OF SUV WHILE DUI OF ALCOHOL KILLING ONE PASSENGER AND CAUSING MAJOR INJURIES TO ANOTHER
WESTMINSTER – A woman will be arraigned tomorrow for driving under the influence of alcohol and losing control of her sport utility vehicle (SUV) that killed one passenger and left another passenger with major injuries. Shauna Nalani Ahyen,22, Wailuku, Hawaii, is charged with one felony count each of vehicular manslaughter by lawful act that might cause deathwith gross negligence while intoxicated, driving under the influence causing bodily injury, driving with a blood alcoholcontent of .08 percent or more causing bodily injury with a sentencing enhancement for causing great bodily injury. Ifconvicted, she faces a maximum sentence of 13 years and eight months in state prison. Ahyen is scheduled to be arraignedtomorrow, Friday, Sept. 13, 2013, at 8:30 a.m. in Department W-2, West Justice Center, Westminster.
On the evening of March 10, 2013, Ahyen is accused of drinking alcohol at a house party and becoming intoxicated. Thedefendant is accused of refusing an offer from other party guests to have a taxi drive them home.
At approximately 3:30 a.m. on March 11, 2013, Ahyen is accused of driving her SUV and transporting passengers Ariel J.and Jose L. The defendant is accused of losing control of her SUV on Brookhurst Street and Russell Avenue in Garden Grove and driving over a curb, slamming into a telephone pole, and crashing into the front of a business before coming to a stop on the sidewalk.
Ariel J. who was lying in the back seat of the SUV was pronounced dead at the scene. Jose L., who also sat in the backseat area, suffered a broken clavicle and a broken arm.
Approximately one hour after the crash, Ahyen is accused of displaying objective physical signs of being under the influenceof alcohol and having a blood alcohol content of .18 percent.
The Garden Grove Police Department investigated this case. Senior Deputy District Attorney Troy Pino of the Homicide Unitis prosecuting this case.
###
Susan Kang Schroeder, Chief of Staff, Office: 714-347-8408, Cell: 714-292-2718
Farrah Emami, Spokesperson, Office: 714-347-8405, Cell: 714-323-4486
TONY RACKAUCKAS, District Attorney
www.orangecountyda.com • 401 Civic Center Drive West, Santa Ana, CA 92701