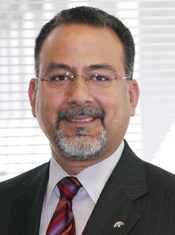 I am hearing that the Santa Ana City Council has settled on their next City Manager and despite a supposed national search and calls for transparency they are going with the Santa Ana Public Works director, Raul Godinez II, who was designated in September as a Public Works Leadership Fellow by the American Public Works Associate. Godinez lives in Orange with his wife Deidra Simon de Godinez and their kids.
This really should not come as a surprise to anyone.  Godinez left the Public Works Director position in Oakland, where he oversaw over 800 employees, to come to Santa Ana where he has been leading less than two hundred Public Works employees.  You don't make a move like that unless there is a good shot to move up at some point.
While the City Council previously flirted with the idea of appointing Parks and Recreation Agency Director Gerardo Mouet as their next City Manager, Godinez seems a much better choice.  Mouet is a good guy, but Godinez has a lot more experience – and he fought some major budget battles in Oakland too.  Plus he has a college degree.  And he was widely praised when he left Oakland.
The O.C. Register published an interview with Godinez that shed a lot of light about who he is and what he stands for, back in 2011.  Here are a few excerpts:
 My parents encouraged me to go to college. I grew up in the late '60s when government had a good name. You wanted to work for the city. My parents said, 'You need a city job, good job to provide for family and do good.' Now, all three Godinez boys work for local government. I'm in public works and my two younger brothers are in law enforcement.   I think my wife is pushing one of our boys to be a doctor and our other son has been very clear about wanting to be an astronaut, so likely he will be a government employee.

Being the first one in my family to get a college degree was a challenge. I come from a working-class family and along the way there were at least two, three times where I almost did not graduate for a good job opportunity. But my parents reinforced the importance of graduating. It took me seven years to graduate. I am very proud of where I am.

I think in terms of all levels of government, local government is the closest to the residents. The work we do is directly impactful. You fix a pothole and you drive by it knowing that thousands of other residents who drive by it will enjoy a better ride as a result. We work hard to fix the water quality, and you have 350,000 people who are going to enjoy it.

I think Santa Ana will evolve as the urban center of the county.  For future success, we need to make sure mobility becomes and stays convenient. We have a planned fixed guideway project that would take a streetcar from the train station to downtown and the civic center. Our city will lead the way to a more sustainable way of living. Already, we are starting to see in the Artists' Village, nice bistros opening up, lofts going up, and an elegant density where boutiques and smaller cafes can thrive.

Government business is a service business, and if you're in the service business, you deliver service with people, so you're in the people business. We have to lead people. Some people try to manage everything. You manage accounts and assets, but with people, you have to lead. There's a big difference between managing and leading, and I think that that's what I appreciate right now, having to work with teams.
The interesting thing about Godinez is that he is not just a public administrator.  He is also a former politician.  He served on the San Fernando City Council for years and he even ran for Congress, in 1998, against a fellow Democrat, Howard Berman.  He got over 19,000 votes in that race, according to Smart Voter, but he was soundly defeated by the incumbent, Berman.
During his time on the San Fernado City Council, Godinez and the council worked to win grants for homes and businesses damaged by the 1994 Northridge earthquake, according to the Los Angeles Times.
If the Santa Ana City Council does opt to go with Godinez as their next City Manager they will in effect be appointing a fellow who is smarter and more experienced than any of them, with the possible exception of Mayor Miguel Pulido, who has also been in the local government business for over twenty years.  Both Godinez and Pulido are also engineers and Godinez is a registered PE (professional engineer), in California.
I can see Godinez running circles around the likes of Michele Martinez, David Benavides and Roman Reyna, in particular.  I am not even counting Angie Amezcua as she has been over her head since she was accidentally elected last November.
Godinez could end up having as long a career in Santa Ana as longtime City Manager Dave Ream did.