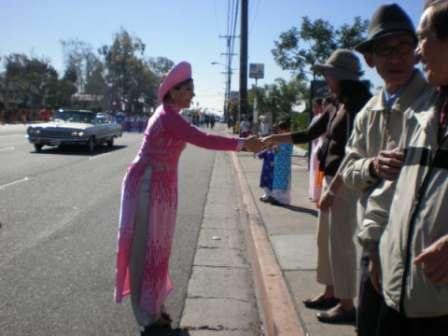 Will Congresswoman Loretta Sanchez change the way she meets with residents in the wake of the horrific rampage in Tucson that left six people dead and terribly wounded Congresswoman Gabrielle Gifford?
Sanchez has always been good about meeting with her constituents.  She has often set up shop in front of local supermarkets, which is what Gifford was doing when the shooting in Tucson occurred.  Sanchez also attends many local events and marches in both the Tet Parade, in Little Saigon, and the Fiestas Patrias Parade, in Downtown Santa Ana.  Can she still do that, safely?
Are any of our local politicians safe at these parades?
And it isn't just Sanchez we have to worry about.  What about her constituents?  The folks killed in Tucson included a Judge, and all were there just to see Gifford.  The dead includes a little nine year old girl.
Can Sanchez still engage in business as usual?  And what about Assemblyman Jose Solorio and State Senator Lou Correa?  Will they also need armed guards while they go out and meet their constituents?
Solorio likes to meet folks at coffee shops.  Correa is just everywhere!  He even took part in covering up graffiti last year in Stanton.
Can any of these legislators still do what they do, without at least doing something to enhance security when they are out in public?
Will the Tucson shooter, Jared Lee Loughner, inspire other disturbed people to do the same?
I remember a post written by a former local blogger a few years ago, when he visited Sanchez at a Stater Brothers.  According to the blogger, a bunch of unhinged backers of Lyndon Larouche showed up to complain about maglev trains.  He wrote that they were chanting and making a huge commotion.  Would that bunch get away with that today?  Or would they be viewed as a security risk and get tasered and dragged off in chains?