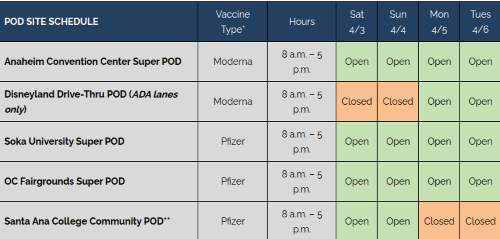 SANTA ANA – Supervisor Katrina Foley (District Two) was joined by Chairman Andrew Do (District One), Supervisor Doug Chaffee (District Four), and representatives from the Orange County Fair Board of Directors and Orange County Health Agency today, to announce the opening of the County's third Super Pod vaccination site at the Costa Mesa Fairgrounds.
"As we open more business sectors in the Orange Tier, our new same-day appointment system at our OC Fair and Event Center location, will help our community get back to work safely and conveniently," said Supervisor Foley. "The site's dual-function as a joint vaccine and COVID testing location, helps ensure our goals of health equity and serving the ongoing needs of our communities."
During the press conference, Foley also announced ongoing efforts to expand hours for the pod location, to better serve those who might not be able to get vaccinated during normal business hours. She concluded with the announcement that she would work with the OC Fair Board to support the vaccination of the fair's 1500 employees, in advance of the July 16th opening.
"Finally, I want to remind our community members on the continued importance of wearing masks and practicing social distancing, even as our vaccination rollout continues." reminded Supervisor Foley. "We are so close to the light at the end of the tunnel, including being able to return to the OC Fair. We just have to stay the course."
For more information on Orange County's ongoing vaccination process click here.
Vaccinations dispensed at County Super PODs are currently available to Orange County residents and those who work in Orange County.
How to Get Vaccinated:
Individuals who live or work in Orange County, CA can register to receive the COVID-19 vaccine online through www.Othena.com or by downloading the app on Iphone or Android. Othena is a vaccine scheduling system created by CuraPatient, in conjunction with leading health care experts and public health agencies.
BE AWARE: The OC Health Care Agency, County of Orange has partnered with Composite Apps, developer of the Othena application, for the sole purpose of facilitating safe and timely distribution of COVID-19 vaccines to Orange County residents. Be HYPERAWARE of fake apps and scammers who may create malicious health-related applications. The Othena app will NEVER ask you for your social security number, credit card information, bank information, or any payment of any sort in any way. Some phone calls may be made to coordinate appointments, but those callers will NEVER ask for payment. Be also aware of the spelling of OTHENA, both as an app and the website www.othena.com.
To learn more about how and where to get vaccinated, please visit the Orange County Health Care Agency website. For questions related to COVID-19, visit OCHA's COVID-19 website, or follow the HCA on Facebook (@ochealthinfo) and Twitter (@ochealth).