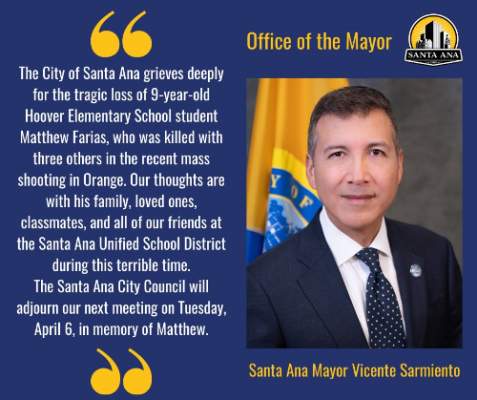 The City of Santa Ana Tweeted today that Mayor Vince Sarmiento and the City Council grieves deeply for the tragic loss of 9-year-old Hoover Elementary School student Matthew Farias, who was killed with three others in the recent mass shooting in Orange.
The Santa Ana City Council will adjourn their next meeting, on Tuesday, April 6, in memory of Matthew.
Matthew was a third-grade student at Hoover Elementary in Santa Ana, which is slated to become a charter high school next year. Matthew wanted to help people, enjoy nature and be happy.
Matthew's father, Rafael, told ABC News that Matthew, his only child, had aspirations of being an astronaut or a police officer. He also said that Matthew had a big heart and was very affectionate. Matthew loved soccer, riding his bike and games of tag, his favorite. He loved his dog, Ruby, a boxer. And he loved playing video games on his Xbox.
The last thing Rafael Farias remembers hearing from his son, Matthew, were the words the little boy told him every day: "I love you, Daddy," according to the O.C. Register.
Matthew would typically finish his schoolwork around 1:30 p.m. and his mother would then take him to daycare. But on some days, when his mom, Blanca Ismeralda Tamayo, figured she would not be finished in time to fetch their son before his daycare closed at 6 p.m., she would take him with her to the office, Farias told the Register. He thinks that's why Matthew was at the site of the shooting.
Farias said he tried to work jobs with flexible hours so he and Matthew could spend more time together. Farias was building an accessory dwelling unit in his backyard, a financial legacy intended for Matthew. 
The SAUSD, in our estimate, should consider renaming Hoover after Matthew, in his memory, or at least erect a memorial there to honor him.