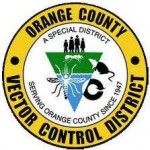 Orange County Vector Control District
Adult Mosquito Control To Be Conducted In The City of Santa Ana
*** UPDATE 8/9/14 ***
Due to the current weather conditions, the Orange County Vector Control District has cancelled adult mosquito control applications in the City of Santa Ana until further notice. Two weather conditions are required for a successful adulticide application. The first is an inversion layer of hot and cold air during the evening hours that aid in keeping the fog close to the ground. The second is proper wind speeds between 5-10 mph. Based on current and 10-day forecasts, neither of these conditions will be met in the scheduled application period of September 8th-11th, 2014.
The District remains committed to providing the citizens of Orange County with the highest level of protect from vectors and vector-borne disease. Mosquito control is shared responsibility, and as such, every citizen has a role to play in reducing the threat of West Nile virus. Follow these recommendations to help protect you and your community:
Eliminate any standing water around your house.
Avoid runoff from overwatering lawns and washing vehicles.
Make sure all of the window and door screens on your house are in good repair.
Wear a repellent containing DEET®, Picaridin, Oil of Lemon Eucalyptus, or IR 3535.
Contact the Orange County Vector Control District to report biting mosquitoes, dead birds or neglected pools.
714-971-2421 or 949-654-2421. www.ocvcd.org.
###