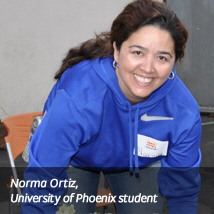 Next Tuesday, Sept. 11, the Mexican American Opportunity Foundation is inviting the community to come to their preschool's open house, from 5 to 7 pm at 2033 West Edinger St., in Santa Ana.
Norma Ortiz, of La Mirada, is the preschool director at the Mexican American Opportunity Foundation (MAOF) in Santa Ana.  MAOF is the nation's largest Latino-serving social service organization that helps children and families in need.
Ortiez was taking a course at the University of Phoenix and she had the option of making up a project or applying for an actual grant. She saw an opportunity to bring a playground to her preschool and she ran with it.
She drafted the grant to build the playground on site at the Foundation. As described in the grant, the playground would be utilized for the Foundation's preschool program, and would be open for members of the community to enjoy. After meeting with numerous community residents and officials, and submitting the grant, Ortiz was notified that the grant was accepted.
Ortiz mobilized more than 400 volunteers to build the playground, and in one day the group successfully completed the project. The playground currently serves children with two basketball courts, a play structure, hopscotch, hand-painted murals on the walls, a community garden and free play space.
"It is so rewarding to see how many children love the new playground and how quickly it has become a staple in our community," said Ortiz. "I am very thankful to Kaboom for funding the grant and to University of Phoenix, for giving me to tools I needed and the encouragement to make this dream a reality. University of Phoenix truly provides an innovative experience that directly relates to real-world skills. Having the ability to put my education to use and benefit my community is a tremendous feeling."
The playground now includes, among other amenities, two basketball courts, a play structure, hopscotch, hand-painted murals on the walls and a huge community garden. The playground was such a success that enrollment for the preschool attached to the center increased immediately. "In four days," Ortiz says, "we filled our enrollment for the next fiscal year, because of the playground."
Again, this was part of a school course…she's one of tens of thousands of unsung heroes, non traditional students who are bettering themselves, their future and their communities.
On Nov. 3, Ortiz will graduate with a BS in Human Services.  Congratulations to Ortiz!  I also graduated from the University of Phoenix, back in 2003.  I completed by coursework in education at the UOP, allowing me to teach at Cerritos College, which I have done since 2003.
It is great to see someone like Ortiz making a difference with her education, right here in Santa Ana!
About University of Phoenix College of Social Sciences
University of Phoenix College of Social Sciences is home to three areas of study and focuses on programs in helping professions across human services, psychology and counseling. The college's curriculum seeks to help individuals who wish to enhance their skills for career entry and advancement in related fields by improving the way people interact with one another, relate to their environment, and respond to stressors. University of Phoenix College of Social Sciences faculty are experienced in their fields. They hold advanced degrees and sit on professional committees, state licensure and accreditation boards. Many are published experts, and a majority have lectured or presented at academic conferences. Curriculum is regularly updated to meet accreditation and/or national and state professional standards.
About University of Phoenix
University of Phoenix is constantly innovating to help students balance education and life in a rapidly changing world. Flexible schedules, challenging courses and interactive learning can help students pursue personal and career aspirations without putting their lives on hold. University of Phoenix serves a diverse student population, offering associate, bachelor's, master's and doctoral degree programs from campuses and learning centers across the U.S. as well as online throughout the world. For more information, visit phoenix.edu.