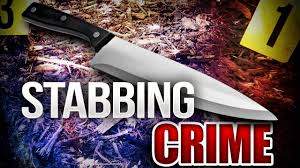 What a bloody year it has been in Santa Ana so far in 2015.   Last night, on Thursday, two more men were stabbed in separate incidents, according to the O.C. Register.
In the first incident the SAPD showed up at an attempted robber, at around 11:40 pm, in the 700 block of South Van Ness Avenue, which is in Santa Ana's Ward 2, which is represented by Councilwoman Michele Martinez.
Apparently a suspect who was wearing a ski mask and gloves ran up to a man and proceeded to stab him in the face!
The stabber then took off and got away.  The injured man is expected to survive his injuries.
Several hours later, at around 3:15 am in the morning, yet another stabbing was called in to the SAPD. This incident happened on the south side, in the 2500 block of South Shelton Street, in Santa Ana's Ward 4, which is represented by Councilman David Benavides.
In this incident a 31-year-old man appears to have stabbed his stepfather with a knife, several times, in the upper torso.
Police said that the stabber acted without provocation and has been described as mentally ill.
The stepfather was rushed to a local hospital and while he was initially in critical condition he had improved by this morning and the police are expecting him to survive the stabbing.
A stepson was apparently at the house when the SAPD showed up.  The stepson has not been found as of this morning.  Names are being withheld by the authorities.